Some Background: The Lamborghini Miura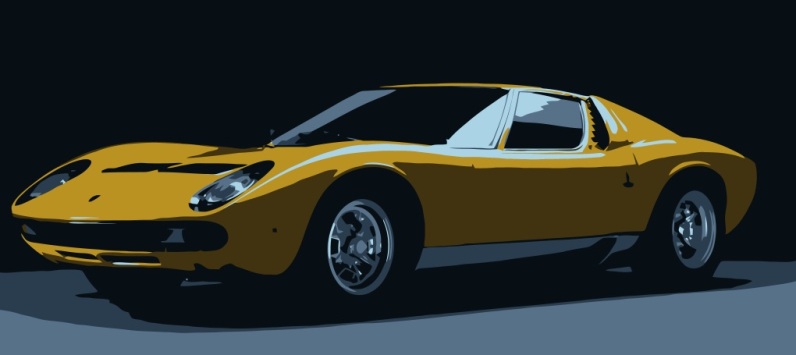 It is difficult to overemphasize the significance of the Lamborghini Miura. Few cars have stunned, inspired and otherwise incurred the use of superlatives. Much has been written about the car: its beauty, the circumstances surrounding its creation, its flaws and its idiosyncrasies. There are many opinions and detailed accounts of the model's evolution (I am especially fond of the book by Marchet and Coltrin), but what is the most striking to me is the way in which it redefined an entire genre of car. It was fresh and revolutionary, technically and aesthetically, and impossibly beautiful: aggressive yet delicate at the same time, with a minimum of fussy details or trendy features (save perhaps the garish colors and heavy use of closely spaced black parallel lines). Today, they are highly sought after, and have played a pivotal role in establishing Lamborghini as we know it today.
I however, have always been ambivalent about the Miura. My father purchased one years and years before I was born and he still owns it, but I have never seen it run, and have only seen it three times in my life between 1990 and 2006. It has a long and colorful story associated with it, and as a result, the Miura has developed an almost mythical status for me. I grew up knowing that we had one, but never saw it, let alone rode in it. For me, the car existed only as two binders full of photographs and several files of receipts outlining decades of snafus, lawsuits, misappropriated funds, and other dramatic debacles.