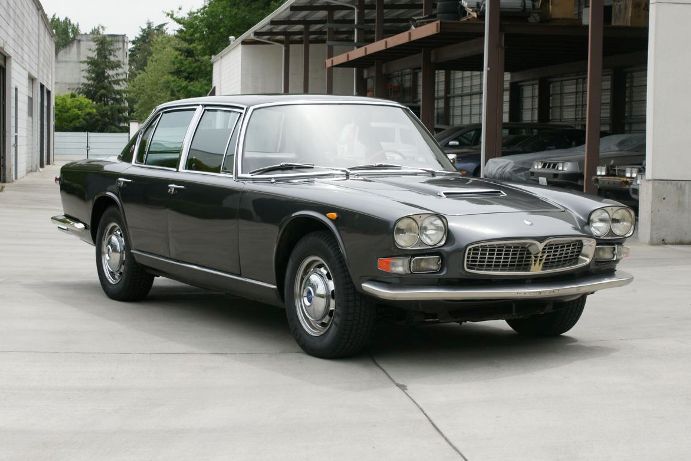 Exterior:

Grey Metallic

Interior:

Red

Engine:

4.2 liter quad-cam V8

Transmission:

5-speed manual

s/n:

AM107.1448

Price:

SOLD

1967 Maserati Quattroporte I
This is a very clean and Series I Quattroporte that has seen some freshening but has never been totally restored. It has been owned by a knowledgeable enthusiast who has invested much time and money in sorting the car, both mechanically and cosmetically.
This car is near Seattle, WA.
The Model
The original Quattroporte was mechanically sophisticated, elegant, exclusive, and best of all, a genuine high performance car. They were the fastest sedans around in their time (challenged perhaps only by the 300SEL 6.3 when that came out in 1968). The quad cam V8 is derived from Maserati's racing engines (in fact, there's a blanked off hole in the cylinder heads is where the second spark plug would go for twin plug ignition), while the 5-speed transmission, disc brakes and deDion rear axle (on early models) ensured that the cars were more than just fast. Certainly a TME all time favorite, these cars are very rare, particularly in the United States, and a pleasure to use. They make great noises and surprisingly modern to drive, and are wonderfully capable cars that make any drive an occasion.
About this car
This particular example is owned by a knowledgeable enthusiast who sympathetically addressed a host of mechanical and cosmetic issues to make this a very nice and reliable Quattroporte. The work has included the fitment of a correct exhaust system, new wheels, twin electric fans, fuel tank senders, brake system rebuild, and some upholstery work. The car was tuned on a dyno to ensure that it is running properly.