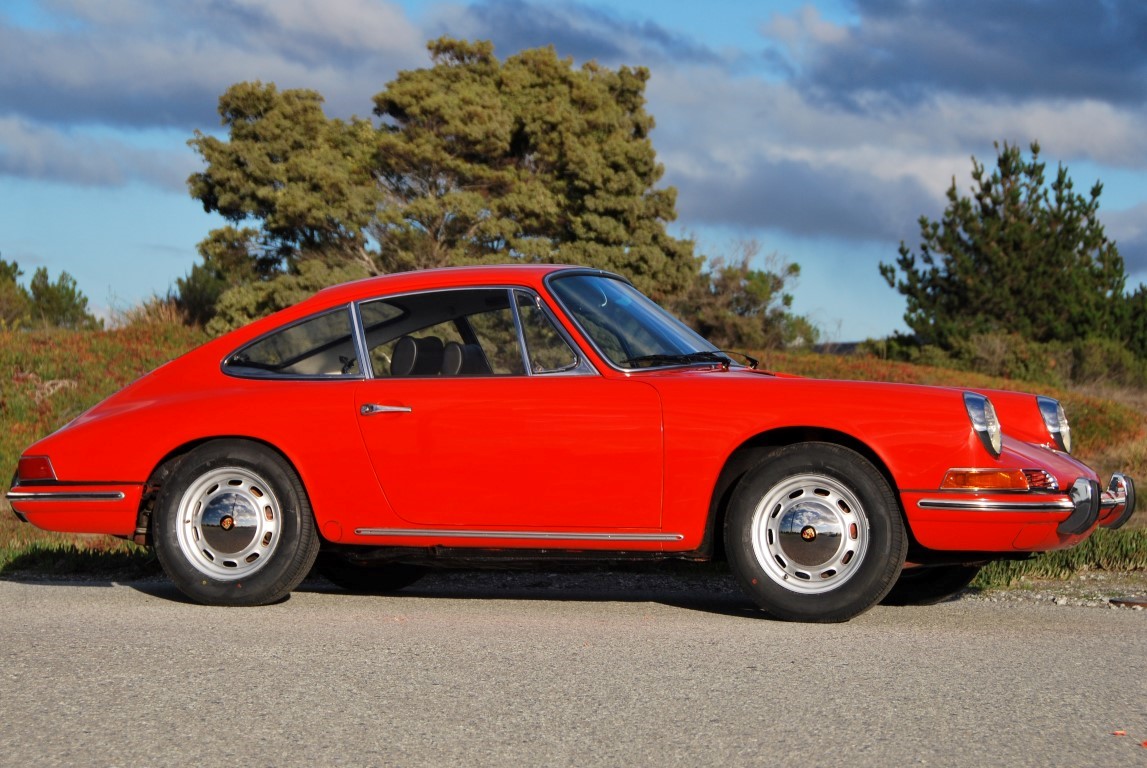 Exterior:

Tangerine

Interior:

Black

Engine:

1600cc flat-4

Transmission:

5-speed manual

s/n:

12820412

Mileage:

87,168 miles

Price:

SOLD TO JAPAN

1968 Porsche 912 Coupe
This is an excellent 1968 912 that was originally finished in the tangerine, the color it still wears. The car has seen significant recent restoration work and is structurally excellent. The California car was off the road for approximately 33 years, stored indoors in California. The car belonged to the same owner until about 2002 at which point another owner acquired it and began a restoration but left the car untouched for most of this period until selling the car in 2014, after which the restoration was completed.
Located in Monterey, California
1968 Porsche 912 Coupe
s/n 12820412, engine no. 1284048
Tangerine with Black Interior
PLEASE NOTE: he new rubber trims for the rocker decos have not been installed, and miscellaneous other items such as rubber door plugs.
The 2014 restoration work included the following work:
Cosmetic: exterior repaint, new rubber seals throughout, all new exterior trim including decos, horn grilles, new front turn signal lenses, bumper guards, new headlight trims, door threshold rubbers, new orange bar hood crest, refinished wheels, new hubcaps, new tires, new wiper arms and hardware, new turn signal and tail light housings, windscreen washer nozzles, door plugs and bumper guard plugs, new front windshield, new cad plating to various components such as latches and hardware.
Interior: new interior carpet, new trunk carpet, new washer tank, cap, and grommet. The headliner had been previously replaced and is excellent, and the seats were also reupholstered.
Mechanical: throwout bearing, rebuilt brake calipers, rebuilt carburetors, tune-up, repainted engine sheetmetal and oil filter housing, new engine decals, new starter, rebuilt fuel pump, new shift bushings, new master cylinder, new battery, new deck lid shocks front and rear.
The car presents beautifully, with very nice paintwork and fresh exterior trim throughout. The window frames are essentially the only external area that presents as anything other than freshly restored. There are light scratches on the window frames. The decos are as new throughout, including the door top trims and front and rear windscreen decos and seals. The car is structurally exceptional. The gaps and fit are excellent throughout and the panels are extremely straight. The undercarriage is exceptionally nice and free of corrosion, including floor pans, seat pans, torsion bar mounts, front suspension pan, and gas tank support.
The interior is also in excellent shape, with new perlon carpets, reupholstered seats, and new headliner. The trims and gauges are in very good unrestored condition. The dashboard is nearly perfect with a single very small crack (see photo).
This 912 has exceptional presentation and appears essentially as new, both inside and out, and has an outstanding body with no corrosion of significance. This is not a car where the photos make it look better or worse than it actually is. The photos accurately convey the condition of the car, and it is a high level driver that would make both the casual enthusiast and the serious collector proud to call their own. It comes with original owner's manual in excellent condition.