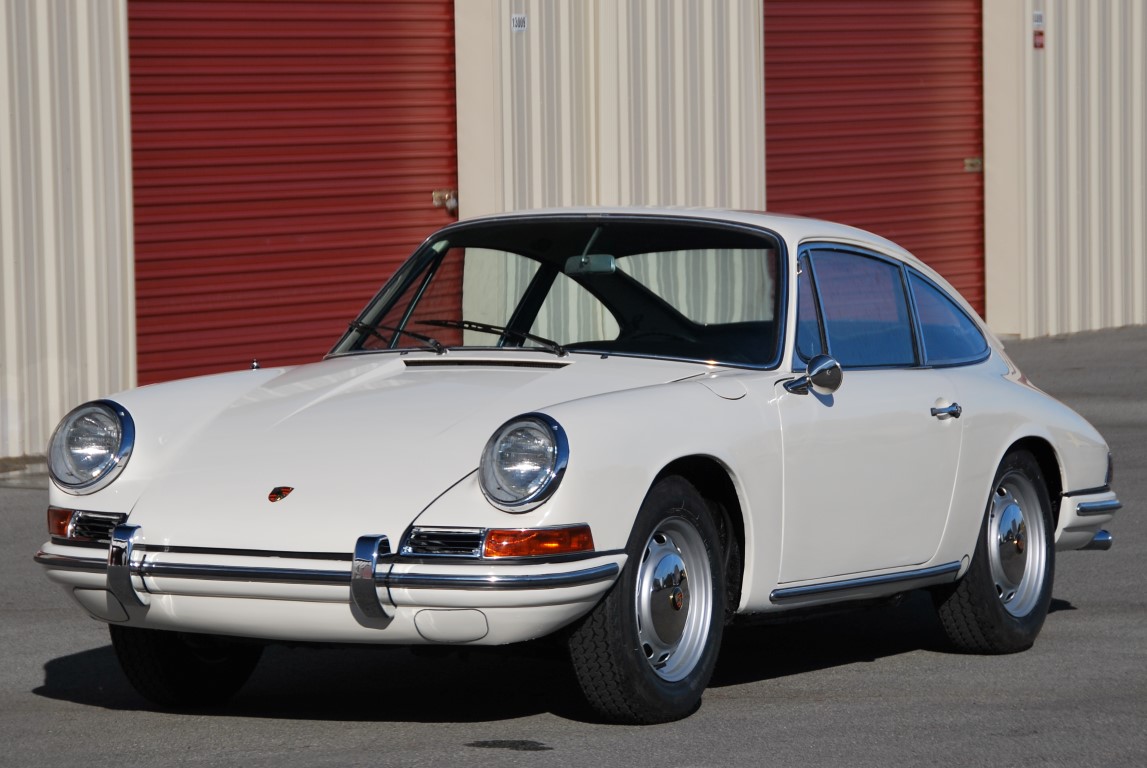 Exterior:

Light Ivory

Interior:

Black Leather Interior with Mouse Grey Corduroy Inserts

Engine:

1600cc flat-4

Transmission:

5-speed manual

s/n:

450750

Price:

SOLD TO FRANCE

1965 Porsche 912 Coupe
1965 Porsche 912 Coupe
s/n 450750, engine no. 741130
Located in Monterey, California
This is a very rare early production Karmann built 912, a painted dash car completed on 29 June 1965, per the included Certificate of Authenticity. It has been restored in its original color combination of light ivory with black leather interior and mouse grey corduroy inserts (again, confirmed by the CoA). We purchased the car as a structurally excellent example needing cosmetics and some mechanical work, but a freshly rebuilt motor and brakes. Interestingly, the car came to us with 5 gauges (outer two are clock and exterior temperature gauge), although this is not an option listed on the CoA.
Below is a summary of the work performed:
Exterior
Bare metal repaint to nice driver standards, dash and jambs were done to OK standards, not show level
Body had no rust of significance
New rubber throughout (body seals, antenna seal, mirror-body seal, door handle seals, side window and windscreen seals, cowl-fender seals, bumper seals)
All new trim, badges, bumper guards, decos (windscreen, rockers, bumpers), windscreen washer nozzles, bumper guards, plastic plugs, nearly everything was replaced
Rechromed 4 screw horn grilles
New lights and lenses
Refinished wheels
New hub caps
New Vredestein Sprint Classic tires
Very good chrome window frames
Interior
New leather seats with correct narrow wale corduroy inserts sourced from Autobahn Interiors, rear seat pans have the correct for 1965 upholstered sides (see photos)
New square weave carpets from Autobahn, including trunk carpets
Retrimmed door panels, parcel shelf, rear side panels
New headliner
New A- and B- pillar vinyl
New rubber floor mats
Retrimmed dash
Rebuilt gauges
New horn button
New pedal pads
New emergency brake handle
Mechanical/engine compartment
Came to us with rebuilt motor, good compression
We removed the motor to replace the leaking rear main seal
Adjusted valves, checked and set cylinder head torques
Rebuilt carbs with correct air cleaners
Rebuilt fuel pump
Reseal fuel tank
New spark plug wires
New oil breather hose
New battery
New heater hoses to rear defroster vents
New shifter bushings
New engine decals
The car makes a strong impression cosmetically but is not a show level example. It is best characterized as a nice driver. The paint was taken to bare metal and done to nice driver but not show standards. The door jambs were redone to only mediocre standards. The chrome trim on the driver's door frame shows some wear although the remaining bright trim is very nice and is basically entirely new except for the side window frames. The driver's window has numerous scratches. Most of the interior has been redone, although none of the dash switches have been and are showing some age. The steering wheel was not restored and also has some patina. Other areas such as the instruments, upholstery, carpets, and headliner are excellent having just been renewed. The engine compartment and trunk have not been restored but are attractive and presentable. New square weave carpets were installed in the trunk.