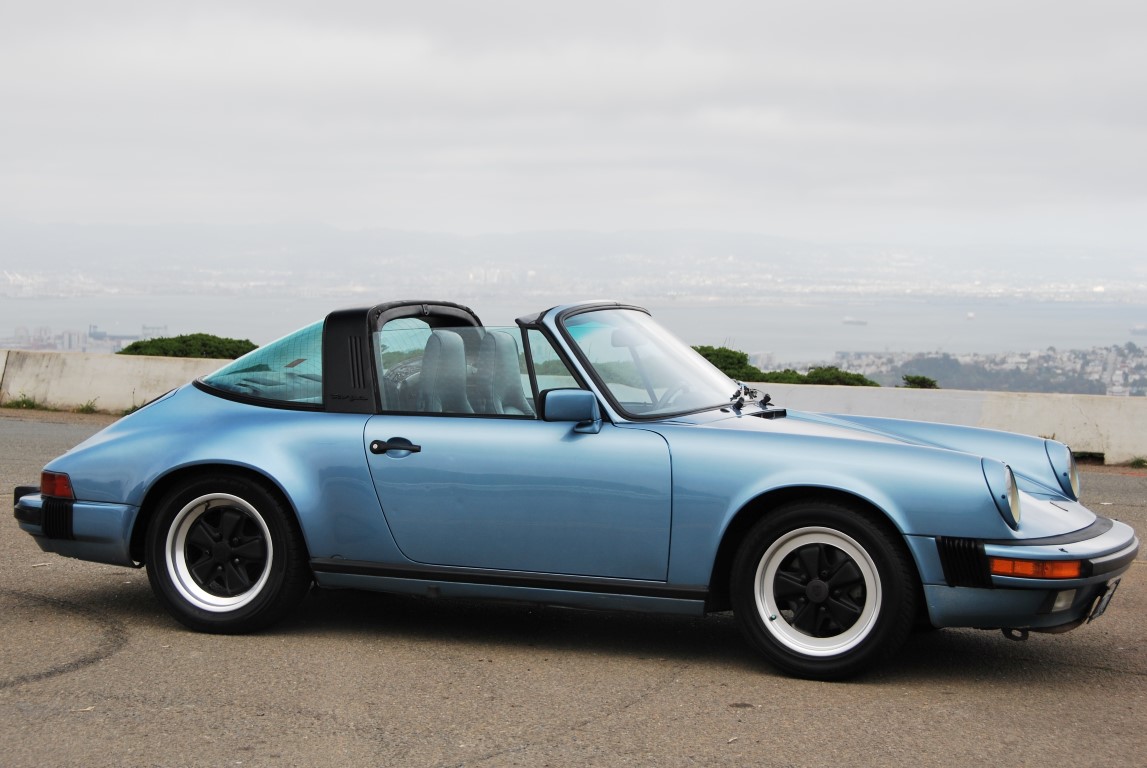 Exterior:

Iris Blue

Interior:

Blue Leather

Engine:

3164cc flat-6

Transmission:

5-speed manual 915

s/n:

WP0EB0911FS161093

Mileage:

158,345 miles

Price:

SOLD TO GERMANY

1985 Porsche Carrera 3.2 Targa
This Carrera 3.2 Targa was sold new at Martin Johnson Porsche-Audi and has been in the San Francisco Bay Area since new. It has been carefully maintained and is an excellent driving that is unmodified and has been well-maintained by its enthusiastic keepers. It is complete with books, tools, compressor, tire changing gloves, and service records back to new.
Located in San Francisco, California
The Model
The Carrera 3.2 occupies a unique place among 911′s thanks to its unique blend of classic 911 traits and more modern technology. As such, they are in many senses the ultimate usable classic 911 and have accordingly enjoyed renewed interest from enthusiasts (and increased values as well). Included among these traits are the instantly recognizable 911 styling cue:, air-cooled engine, Fuchs alloy wheels, and torsion bar suspension. However, with the addition of electronic fuel injection, a galvanized body shell for improved rust resistance, and various electrical accessories, the cars run cleaner, perform better, last longer, and are easier to use in the modern world than older examples. Nevertheless, the electronic components are quite simple, making these the last of the cars that can be consistently maintained by the DIYer not owning computer diagnostic tools. While Carrera 3.2′s were built in great numbers, they are old enough and usable enough that nice examples have become increasingly difficult to find. This variety of factors has led to noticeable appreciation of values in recent years, and the fundamental appeal and decreasing numbers of specimen means that this trend is very likely to continue in the future.
History
History
This particular example was sold new at Martin-Johnson Porsche-Audi in Oakland, California on the 9th of May 1985. It has had four California owners from new and has always been in the San Francisco Bay Area. Its ownership history is as follows:
9 May 1985 until 1996: Mike Watson, owner of Hornblower Yachts, San Francisco and Piedmont, California
7 March 1996 until 6 July 1999: Dr. Jo Stroud of Half Moon Bay, California, bought at Negherbon Porsche in Oakland, California
6 July 1999 to 28 April 2007, McCarthy in Oakland, California
28 Apr 2007-present: Current owner in Berkeley, California
The car comes with an extensive service file including a great many early invoices at the Porsche dealer in Oakland, as well as the famous Porsche repair shop Lukes and Shoreman. The continuous record supports the gradual increase of mileage to the current reading of 158,343 miles. The car has had significant recent maintenance including the following highlights:
February 2013 at 156.6k miles, $2755: Rebuilt left rear brake caliper, install new Blaupunkt Reno 2 radio, install H4 headlamps, install new windscreen, oil service, install restored dashboard
August 2012 at 155.7k miles: transmission oil change, rebuilt starter
July 2011 at 154k miles, $2088: rebuilt front brake calipers, restore hubs, new wheel bearings, new front rotors and pads, new brake lines, new turn signal switch
March 2008 at 146.6k miles, $5038: new clutch, flywheel, rear main seal, clutch release fork, rebuild transmission
August 2004 at 137.5k miles, $3361: engine out service including rebuild #4 cylinder head, compression was strong otherwise, new firewall heat pad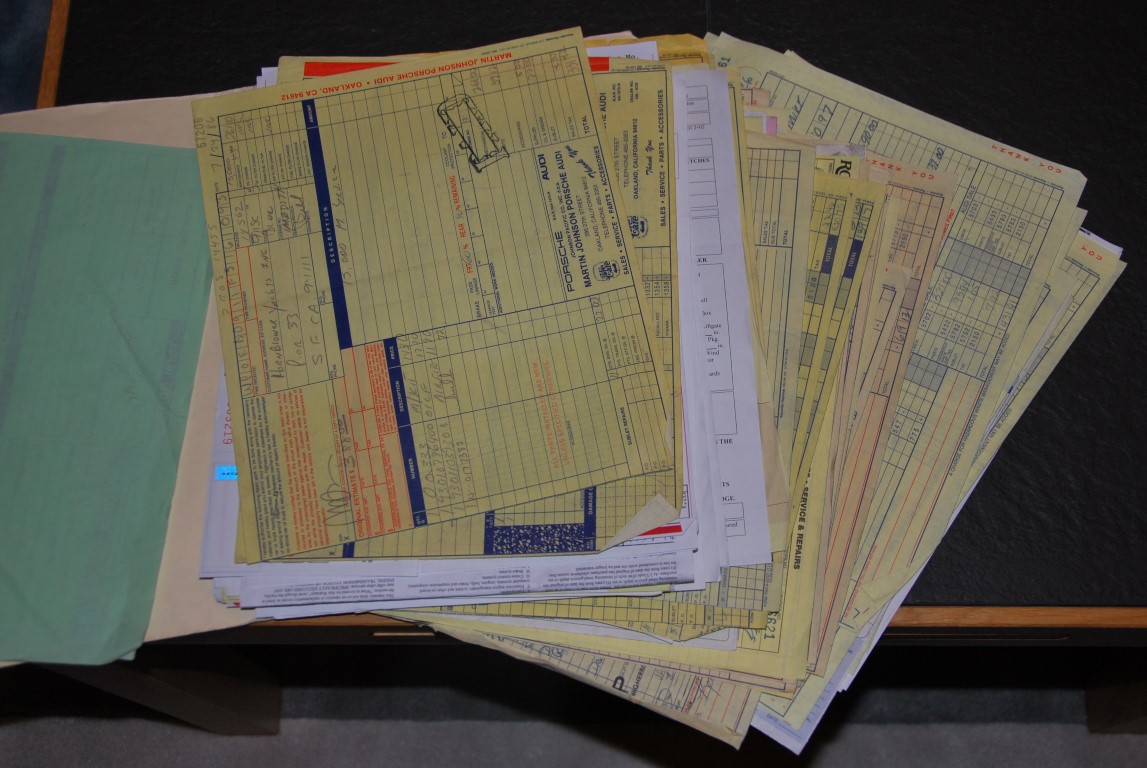 There are countless other service items that have been addressed over the years and the car is exceptionally well documented and complete with nearly thirty years of invoices, manual pouch with owner's manual, service book (stamped), key card, spare keys (original), air compressor, jack, tool roll with tools, and even the spare tire changing gloves.
Condition
The car is cosmetically presentable and makes a good impression at a distance but has numerous flaws. The body is reasonably straight with the occasional small dent to the doors, right rear fender, and one dent in the front decklid. The paintwork is serviceable with some chips to the front of the car from road use, and various other chips around the car from normal use. The paint on the headlight sugar scoops shows some deterioration. The glass and lights are excellent and the car has been upgraded with H4 headlamps. The trim is intact and correct and the wheels are also in very nice condition.
The car appears to have been in a rear end accident at some point as indicated by some welds on each rear fender at the corners of the engine compartment jamb. The paint on the rear fenders and engine lid is a slightly different color from the rest of the car and shows thicknesses in the neighborhood of 10 micrometers. The paint on the rear bumper, inside of the engine lid, and the latch panel (where the placard stickers are located) is original as confirmed by a paint thickness gauge. The thickness readings on the remainder of the car suggest almost certainly that the paint is original on the doors, front and rear bumpers, front fenders, and front decklid, with uniform readings between 4 and 7 micrometers.
The interior is largely original and is excellent considering this. The leather is in good shape as are the carpets. The instruments, switches, and controls are correct and in good shape. The door panels are in good shape as well, as is the targa top inside and out. It fits and operates well and has both original latch handles. The dashboard was restored and is generally very good, although close inspection shows some unevenness showing through the new upholstery material. Three point seat belts were added in the rear seats and two holes were cut in the parcel shelf to facilitate this. The stitching on the steering wheel has come undone in several places.
The engine compartment is stock in appearance and appears as it should, with minor soiling but no significant issues or causes for concern. The trunk is in good shape with original carpet in good condition, as well as correct spare, compressor, jack, and tools. The structure is in excellent shape.
The car runs and drives superbly. The engine starts easily and runs faultlessly with no excessive valve noise or other untoward noises. It makes good power, providing a sprightly driving experience. The transmission shifts superbly, offering an unusually nice 915 user experience. The steering has the famously communicative torsion bar 911 feel, while the 6 inch front wheels provide a lightness and tactility that is a legendary characteristic of the vintage 911. There is no untoward slop or looseness. The brakes are effective and smooth in operation.
Conclusion
This is a fine opportunity to acquire a superb-driving California Targa with known history back to new. It has always been in the San Francisco Bay Area and has been fastidiously maintained by its enthusiastic owners. It is exceptionally complete with extensive records, full books set, tools, jack, and tire compressor and is ready to be enjoyed as is, or its cosmetics could be gradually improved if the new owner so desires.