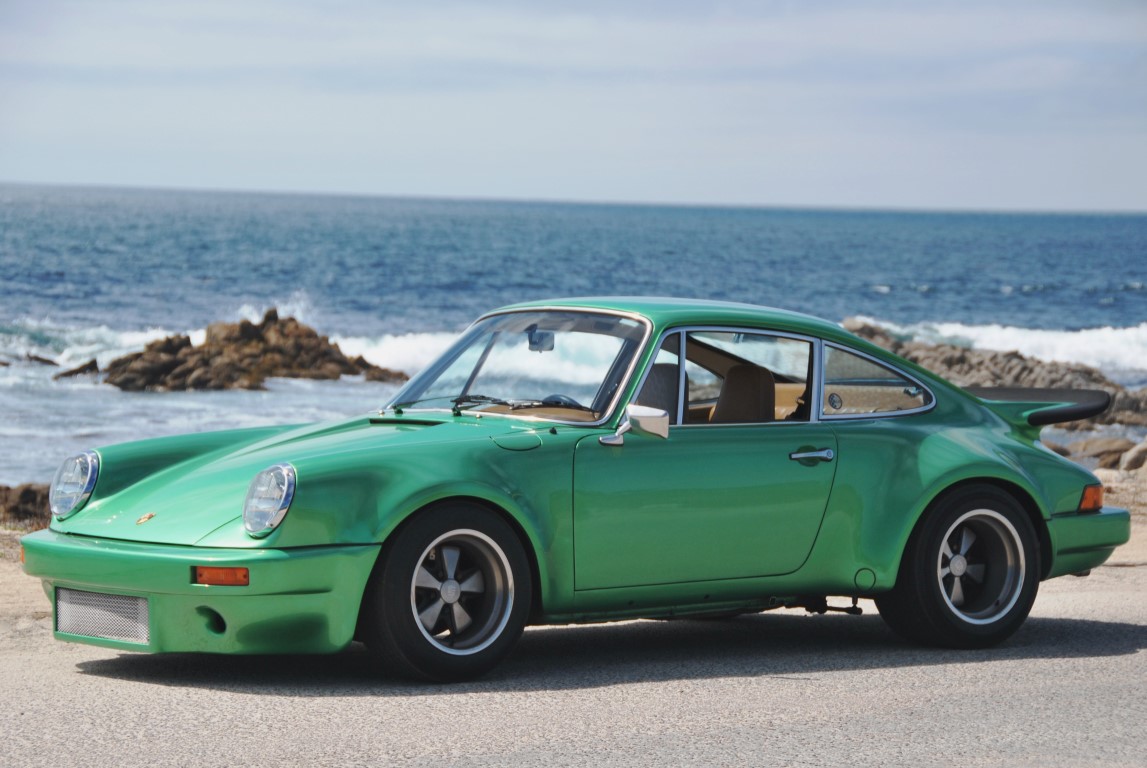 Exterior:

Viper Green

Interior:

Tan with Corduroy Inserts

Engine:

3.5 liter twin plug flat-6

Transmission:

5-speed manual

s/n:

9115201273

Price:

SOLD TO NC

1975 Porsche 911 3.0 RS Tribute
This car is located in Menlo Park, California
History
This car was started as a 1975 911S and sold new in California, and remained in the San Francsico Bay Area almost its entire life, including Mountain View, Redwood City, and Livermore. It is a factory Vipergrun (#249) car that was repainted guards red and to a widebody with correctly butt-welded 930 flares, bumper tips, and intercooled 930 tail. This work was likely done in the 1980s and the car looked from the outside like a dead ringer for a guards red 930 aside from incorrect side mirrors and exhaust treatment. The original tan interior with corduroy inserts was left intact through this period and remains in the car today in excellent original condition.
By 2010, the car hadn't been driven for about two years and belonged to a woman whose husband had had owned it for some years. It was solid, straight, and rust-free, and became the basis of the build to create the car as it is today. The car was repainted its original color and received a visual 3.0 RS conversion, including factory original and numbered 3.0 RS fiberglass rear spoiler and fiberglass bumpers. A 3.5 liter twin plug motor was installed along with upgraded driveline, suspension, and brakes (details below). The build was overseen by John Schaefer of at Brumos Porsche in Florida.
Its current owner purchased it in April 2013 at Brumos Porsche, at which time the compression was 180-185psi on all six cylinders. It has seen considerable additional work, including upgrading the the suspension with Elephant Racing components, rebuilt braking system, new Michelin TB15 tires, Wevo shifter, routine maintenance, and much other work. Leakdown in October 2014 was 5-7% on all six cylinders. At this time the carburetors were also rebuilt and tuned, the oil changed, and new spark plugs installed.
The car resided in the Seattle area, and was driven down the coastal route on 101 to California for Monterey Car Week in 2014, a trip of over 1100 miles.
Exterior
Rust-free Northern California car from new in rare and original #249 Vipergrun Metallic paint color which was been professionally refinished by Porsche paint and body specialist Jose de la Torre in Orlando, Florida.
3.0 RS/early Turbo steel front and rear factory flares (rears butt welded as per factory spec) installed many years ago.
Fiberglass reproduction RSR front and rear bumpers from GT racing
Factory original and numbered 3.0 RS fiberglass rear spoiler
European H1 headlights
European rear lenses
Excellent bright trim/chrome work and original glass
Original 9″ by 15″ factory Fuchs front wheels, original 9″ by 15″ factory Fuchs wheels which have been widened to 11″ by 15″ by Evox in Switzerland in the rear, with Michelin TB15s
full clear bra on front bumper, front deck lid, front fenders (entire fenders and deck lid covered, no visible lines), as well as door edges, door handle cups, and rear fender stone guards
Interior
Original saddle tan interior (#503) color with original vinyl, fabrics, headliner, and carpets all in excellent condition. Has an unusual and very 70s corduroy center seat inserts in near new condition.
No sunroof, power windows, or air conditioning
Factory original 10,000 RPM RSR tachometer and RSR/Motorsports 180 MPH speedometer
Small diameter, thick leather rim, sport wheel (Carrera, RS, RSR) in mint condition
NOS original shift knob
Rear raised speaker/package shelf is a rare factory option
Rennline fire extinguisher mount with Halon extinguisher
Motor and driveline
Special aluminum case 3.5L twin plug motor built by Jerry Woods, and has approximately 2000 miles on a $9,000 teardown/reseal/freshening by Sid Collins at Troysport, including new rod and main bearings, redone crank, rings, chains, and gaskets/seals.
Original 3.0 RSR heads
RSR Mahle 100mm pistons and cylinders
Carrillo 3.2 rods
Special cross drilled 3.2 crank (74.4mm stroke) with polished and chromed journals
Racing oil pump
Custom grind camshafts (similar to GE 80)
Reproduction Marelli twin plug distributor with 6 pin Bosch CDI and coils
Clewett plug wires
Weber 46 IDA carburetors on tall intake manifolds, freshly rebuilt
Triad headers and new custom exhaust
Amber fiberglass rain hats
New front bumper opening mounted RSR style oil cooler with factory hard copper and braided stainless steel oil lines
Lightened flywheel and aluminum racing clutch
Rebuilt 915 transmission with Wevo Classic shifter and rebuilt shift coupler
Suspension
930/917 front brakes with floating rotors, SC rear brakes
Pagid pads
Bilstien Sport struts
Elephant Racing F quick change triangulated strut tower brace
Elephant Racing F monoball camber plates
New OEM F ball joints
Polybronze control arm bearings
Elephant Racing control arm mounts
Elephant Racing bump steer kit
New OEM Turbo tie rods
Adjustable rear sway bar end links
930 rear sway bar
Elephant Racing R quick change spring plates
Polybronze spring plate bearings
Elephant Racing R monoball trailing arm bushings
Driving experience
The car is blindingly fast and drives fantastically, with a wonderfully coherent chassis and absolutely massive grip thanks to the TB15s. The level of body control is consistent with an aggressive street setup, remaining suitable for street use, but providing a level of directness and precision that will appeal to the driver seeking to use the car like a sports-purpose 911. The engine is impressively tractable and smooth in operation. Despite the specification, it really is a sweetie that can pull smoothly from low RPM in any gear and does not feel over-carbureted or otherwise temperamental. Plant the throttle at any speed in any gear and the car explodes forward in a drama-free way that is very impressive for a car of this age, both in terms of power delivery and speed. It is a very torquey engine and aside from a very slight hesitation that sometimes appears, it is perfectly tuned. The transmission has excellent synchromesh and operates without faults of any kind, which is unusual in a 915. The shift effort is lower than most 915s, with pleasingly effortless gear selection, even second gear, regardless of the temperature of the gear oil. The clutch is progressive and not too heavy. The brakes are capable and easy to modulate, with the famously powerful 917/Brembo calipers at the front. The brakes sometimes squeak when pulling up to a stop when they are hot. Overall, considering the level of modifications of the car, it is an impressively easy car to drive, with a smoothness and well-resolved character that is all the more remarkable considering the performance of this car.
Condition
The car is in excellent cosmetic condition, with virtually unmarked paint done to high standards. The body is in fantastic condition, with excellent original structure including floor pans, front suspension pan, and rockers. The body is straight with great gaps. The brightwork is very nice, with light scratches on the window trims. The rubber seals have minor cracking. The lights and lenses are excellent throughout, including the H1 headlamps. The interior is in excellent original condition including the seats, door panels, dashboard, carpets, and headliner. The trunk and engine compartment are both very nice, and while not detailed to show standards, present very nicely.
The car is complete with extensive service records back to 1982, as well as complete original books set.