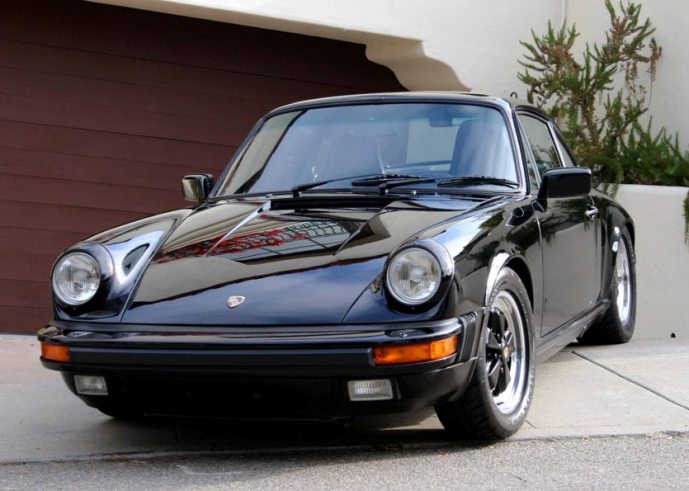 Exterior:

Black

Interior:

Black Full Leather

Engine:

3.2 liter flat-6

Transmission:

5-speed manual 915

VIN:

WP0ZZZ91ZFS101732

Price:

SOLD TO CANADA

1985 Porsche Carrera 3.2 Coupe European Model
This is an extremely clean meticulously maintained California-legal federalized European example of the legendary Carrera 3.2. It is fitted with the more powerful European high compression engine and has been a Calfiornia car from new.
The Model
The Carrera 3.2 occupies a unique place among 911's thanks to its unique blend of classic 911 traits and more modern technology. As such, they are in many senses the ultimate usable classic 911 and have accordingly enjoyed renewed interest from enthusiasts (and increased values as well). Included among these traits are the instantly recognizable 911 styling cues, air-cooled engine, Fuchs alloy wheels, and torsion bar suspension. However, with the addition of electronic fuel injection, a galvanized body shell for improved rust resistance, and various electrical accessories, the cars run cleaner, perform better, last longer, and are easier to use in the modern world than older examples. Nevertheless, the electronic components are quite simple, making these the last of the cars that can be consistently maintained by the DIYer not owning computer diagnostic tools. While Carrera 3.2's were built in great numbers, they are old enough and usable enough that nice examples have become increasingly difficult to find. This variety of factors has led to noticable appreciation of values in recent years, and the fundamental appeal and decreasing numbers of specimen means that this trend is very likely to continue in the future.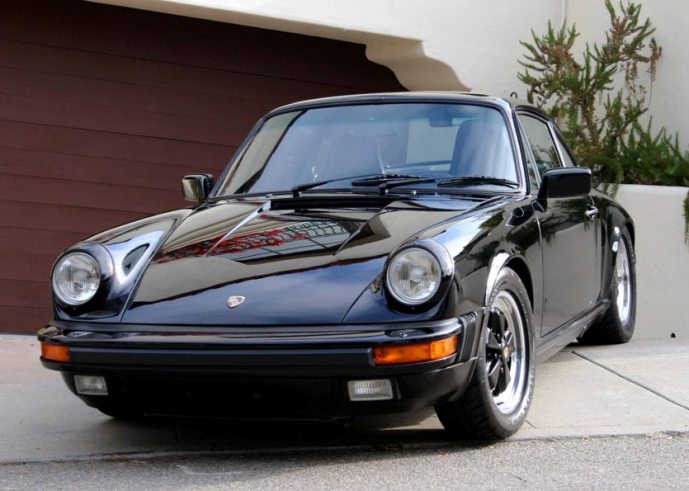 History
This particular car was produced to European specifications and as such features the higher compression engine that provides more power. It was imported to the United States in 1985, and has always been in California. It has extensive service records back to 1990, indicating three long-term owners and meticulous maintenance. There are also copies of service stamps all the way back a service completed on the 22nd of July 1985 when the car had 3,099 miles. The car was federalized completely when imported, and and is fitted with the critical California BAR sticker that ensures that the car can be run with no problems, even under California's strict laws. During the federalization process, the side marker lamps and rear fog lamp were removed, US front and rear lamps fitted, US rear overriders fitted, and non-metric instruments fitted, indicating the thoroughness and professionalism with which the conversion was performed. The car is stock aside from a few subtle but tasteful updates, including the fitment of drilled brake rotors, H4 headlamps in the sealed beam housings, 1986+ front seats, and a reduction in ride height to European specifications. Also of note is the polishing of the wheel rims (by Robert Wood) and the fitment of color wheel crests.
The car is well-optioned, particularly for a European car, and the specifications include full leather interior, cruise control, electric seats, central locking, headlight washers, electric mirrors, sunroof, and air conditioning. The accessories all function properly, including the air conditioning. The car was in Southern California until 2000, when the current owner acquired it and brought it to Northern California. It has accumulated less than 20,000 miles during that time, and has been meticulously maintained, as ever, by its current owner.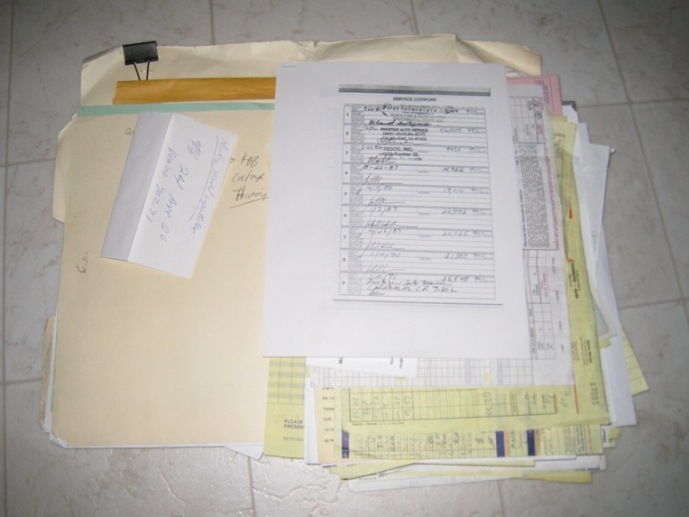 Maintenance
These are the major points; lesser more routine receipts (such as oil changes) are not included. There is a thick sheaf of records dating back to 1990.
November 1996/81,540 miles:
Partial repaint using Glasurit, including both doors, one front fender, rear deck lid, roof and sunroof ($3,507.63).
May 1999:
All four wheels refinished, rims polished by Robert Wood, all four tires replaced with Bridgestone S-02's, interior components redyed.
December 1999:
Repaint front deck lid and bumper ($1994.36).
January 2000/104,318 miles:
Engine out service: replace clutch and assorted components, resurface flywheel, replace oil return tubes, clean and detail engine and transmission, replace sound pad, replace all four rotors and pads, rebuild front wheel bearings, rebuild axles, install four Bilstein shocks, lower car to European ride height and align, replace windscreen ($4289.94).
May 2000/107,379 miles:
Replace catalytic converter.
July 2001/112,195 miles:
Starter replaced.
More recent maintenance includes the rectification of various small items, the replacement of first and second gear synchromeshes, and regular servicing including fluid changes.
Condition
The car is in excellent cosmetic condition, having obviously been kept up well, regularly and thoroughly cleaned, and garaged. The paintwork is very high quality throughout, with excellent preparation, few blemishes, and a mirror like finish that is very difficult to achieve with black paint. There are few swirl marks, and just a handful of small chips and scratches associated with use. Aside from some overspray in the shut face around the engine compartment, there are no obvious indications of the car having been repainted. The panels are very straight and fit well, substantiating the service records, which show no accident history of any significance. The rubber and other trim is like new, and the wheels remain stunning following their restoration. The glass and lamps are excellent, including the Hella H4 headlamps, which provide dramatically improved illumination.
The interior is also extremely nice, with light wear in selected areas only. The car is fitted with Porsche rubber-backed over mats, which show some wear, but the carpets beneath are excellent. The seats are in excellent shape throughout, with light wear only to the driver's bolster. The remaining leather, which covers the door panels, pulls, and map pocket lids, is excellent as well, and the dashboard is free of cracking, though it displays mild warping. The instruments and switches are in excellent shape, and the instruments are free of the fading that afflicts cars that are ordinarily parked outdoors, indicating that this car has been garaged for the majority of its life. The headliner is original and has a 2" hole near the left coat hook, as well as a few small tears near the sunroof aperture.
The trunk is original and is tidy. The carpet is in good shape, and the original spare and tools are still present. There are no signs of corrosion, as to be expected of a California car. The engine compartment is extremely nice, having been recently cleaned and detailed. It is stock, with no signs of modification or tampering.
The driving experience reminds the driver why these cars are so legendary. The steering is wonderfully light and communicative, while the extra oomph from the European motor makes a noticeable improvement over a standard US car. The suspension behaves as it should, providing excellent body control and composure. The brakes are very effective, and tremendously easy to modulate, while the 915 gearbox is in fine shape, rewarding the properly executed gearchange with great satisfaction.
This car truly is as nice as it looks in the pictures, and represents a rare opportunity to own a classic 911 that has been properly looked after, both mechanically and cosmetically. It is in ideal condition because it is beautiful, but can still be used without having to worry about breaking out the q-tips after each drive. Thanks to its reliability and robustness, it could be used every day, as many of these cars have been. Many such cars have been used up and neglected however, and this car is a wonderful exception to that trend. While not the cheapest example on the market, the economically minded enthusiast will appreciate that this is a turn-key no stories California car that has no serious (i.e. expensive) needs or hassle to worry about, which means saving money in the long run. This truly is an example to get in an drive.
Photos