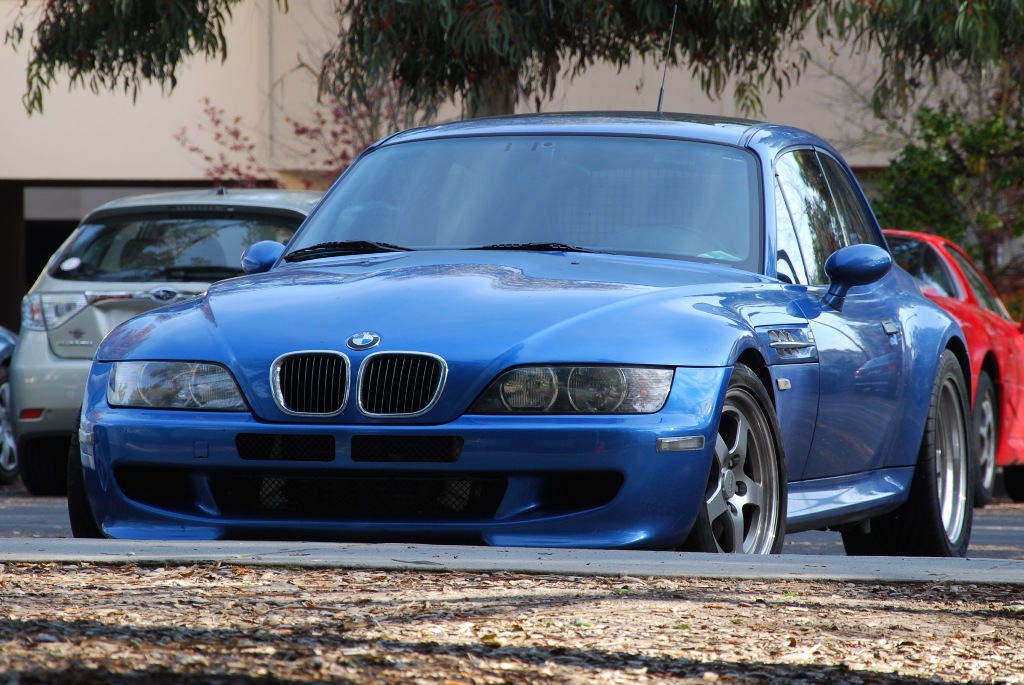 Exterior:

Estoril Blue

Interior:

Two-Tone Estoril Blue and Black

Engine:

3.2 liter supercharged and intercooled inline-6

Transmission:

5-speed manual

2000 BMW M Coupe Dinan ISC
Colloquially known as the "clown shoe", these M Coupes have a rabid following. Incorporating the excellent drivetrain of the M3 with the less sophisticated rear suspension derived from the E30 (for reasons of space because of this car's short wheelbase), the cars are exciting to drive and very satisfying when capably handled. The platform is among the most rigid around, providing an excellent basis for a high performance car.
This particular car was fitted with a number of modifications, including Dinan supercharger, exhaust system, and suspension (springs, shocks, swaybars). The owner found the handling to still not to his satisfaction (having been a Porsche owner for decades) and contacted Dinan about improving the handling. They reported that they had built a handful of cars to an even higher specification known as ISR (for Intercooled Supercharged Roadster), which incorporated proprietary Dinan valving in the shock absorbers and adjustable camber plates and adjustable rear subframe. The cars also had significantly uprated engines running higher boost, which necessitated the installation of an intercooler. This car went to Dinan to receive the suspension upgrades, but "while we're in there" turned into a full-fledged conversion to ISR specifications. Just nine cars, had been converted to this specification, eight of which were roadsters, and this car became the tenth (and the second coupe).
The specification includes:
Engine: Supercharger, free flow exhaust, cold air intake, reprogrammed engine management software, high flow throttle body and high flow air mass meter into Shrick high flow intake manifold, underdrive pulley for supercharger (increases boost from 6 pounds to 10 pounds), oil cooler, intercooler with auxiliary fan, and enhanced fuel delivery system (requires its own software!), high flow fuel injectors. The auxiliary fan is triggered whenever the car is on boost, and remains on for three minutes afterwards. Ducts have been let into the front bumper to permit additional airflow to the intercooler.
Suspension: Stage 4 (a matched system of performance springs, with specially revalved ISR Koni/Dinan shocks, bigger adjustable swaybars, front camber plates, camber-adjustable rear subframe and strut tower brace), differential mount reinforcement, and Fikse wheels (17x 8.5" with 255/40-17 front and 17x 9.5" with 285/40-17 rear tires)
Drivetrain: Lightened aluminum flywheel (15lbs lighter), heavy-duty stage 2 clutch with 20% higher clamp rate and Final Drive lowered to 3.38:1 via LSD differential
Brakes: Cryoed and cross-drilled Brembo rotors and cryoed Porterfield R4S street/comp pads.
Various Dinan advertising (badging, carbon fiber engine covers, embroidered headrests, floor mats)
Vehicle Photos