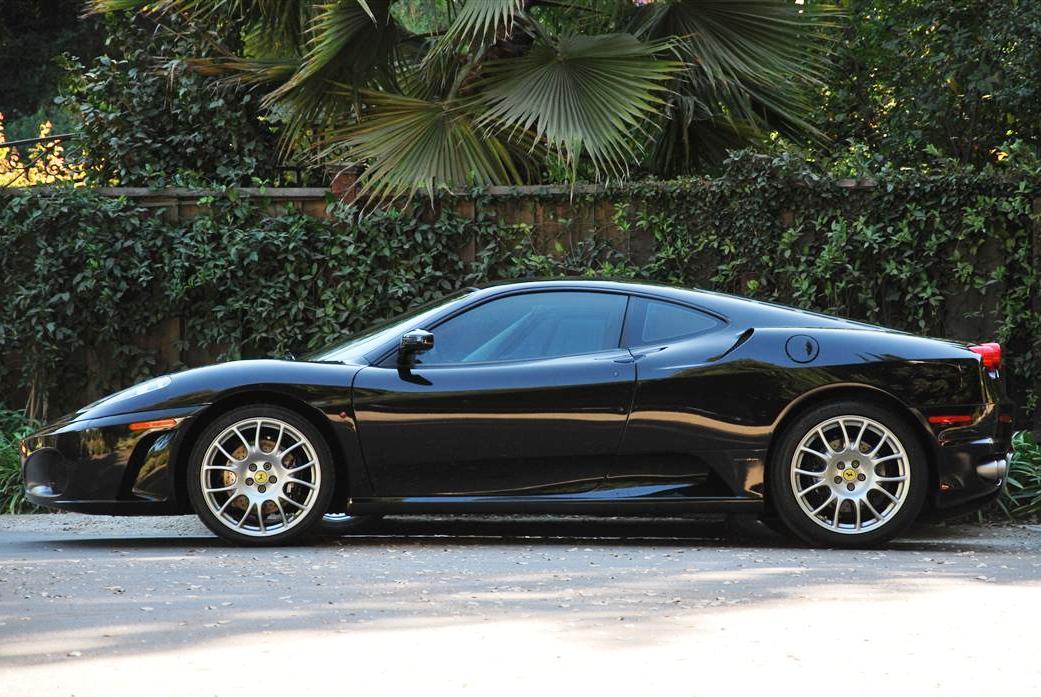 Exterior:

Nero Daytona (metallic black)

Interior:

Beige Leather with Black Piping

Engine:

4.3 liter V-8

Transmission:

6-speed manual

Mileage:

4450 miles

s/n:

ZFFEW58A060149372

Price:

SOLD TO MN

2006 Ferrari F430 Coupe
This is a 6-speed (non-F1) F430 coupe that is tastefully finished in metallic black with beige leather interior with black piping and stitching. It is heavily optioned with Challenge wheels, Daytona seats, heated seats, extended carbon fiber upper driver's environment, 6CD autochanger, and Bluetooth. The car also has full clear bra and is very complete with tools, books, records, compressor, cover, and umbrella.
This car is in Atherton, CA
The Model
Part of a long line of compact mid-engined Ferraris dating back to the legendary 206 and 246 Dino, the F430 bristled with innovative technology upon its introduction. Building on the impressive aluminum spaceframe of the 360 which preceded it, the 430 was improved in nearly every measurable respect over the earlier car. The car featured an all new dry sump 4.3 liter V8 producing some 483hp (over 112hp per liter), and numerous technologies descended from Ferrari's world-class Formula 1 effort, such as the driving dynamics controls on the steering wheel and the electronically controlled differential. The car is everything that modern Ferrari should be: fast (0-60 under 4 seconds and top speed just shy of 200mph), exotic, visually arresting, and an outstanding driver's car. Most cars were equipped with the F1 paddle shift gearbox with electronically actuated clutch, though a few examples were fitted with conventional gated shifter 6-speed manual transmissions, among the last Ferrari models to be so equipped.
History
This particular car has a conventional 6-speed manual transmission and was sold new at Ferrari Maserati of Seattle. It was purchased by its current owner from them in December of 2007 and has covered just 4400 miles from new. It is very nicely optioned and finished in a lovely and tasteful color combination of Nero Daytona (metallic black) with beige interior with specially specified black piping, black stitching, and Daytona inserts. Other options include Challenge wheels, 6-disc CD changer, Bluetooth, heated seats, carbon fiber upper driver's environment (including steering wheel and instrument surround), red tachometer, and suede headliner. Additionally, the car has an extensive clear bra package as well as tinted windows.
Condition
The car is in excellent cosmetic condition. The exterior displays almost no blemishes of significance. There are no dings to speak of, and only the typical light scraping on the underside of the nose, which is only visible if one is on one's hands and knees. The wheels are free of kerbing, and the Michelin Pilot Sport tires are in great shape. One of the vanes of the rear diffuser has some scraping as well, but the car otherwise presents as a new car. The clear bra is extensive, covering the front end, lights, mirrors, splash areas, and leading edges of air intakes.
The interior is similarly nice, with no significant wear or aging. The dashboard displays no shrinkage, and the driver's bolster is essentially free of wear as well. The black stitching and piping adds distinguished and stylish accents, as do the extensive carbon fiber accents and of course the legendary gated shifter. The engine compartment and trunk are similarly nice as would be expected for a low mileage and fastidiously cared for car. The car is extremely complete with tool case with all tools, compressor, genuine Ferrari battery tender, Ferrari Mag-lite flashlight, full book set in Schedoni pouch, and a binder containing invoices and other paperwork. The car has received regular servicing at authorized Ferrari dealers.
This is an outstanding opportunity to acquire a uniquely equipped F430 at massive savings over new. As much as is possible for a mid-engined exotic Ferrari, this car is rather subtle and sophisticated. The car does not have scuderia shields or yellow brake calipers, and the metallic black finish with tinted wheels is sinister and stealthy. The beige interior is beautifully set off with black carpets and other accents, while the 6-speed manual is quite rare and adds further to this car's uniqueness and appeal. In short, this is not just another red or yellow F430 that screams "look at me!", but is instead a car that is obviously exotic and impressive without having to resort to such loud measures. Furthermore, the car is very complete and has been carefully driven and looked after to ensure that it is ready for its next owner.
Vehicle Photos