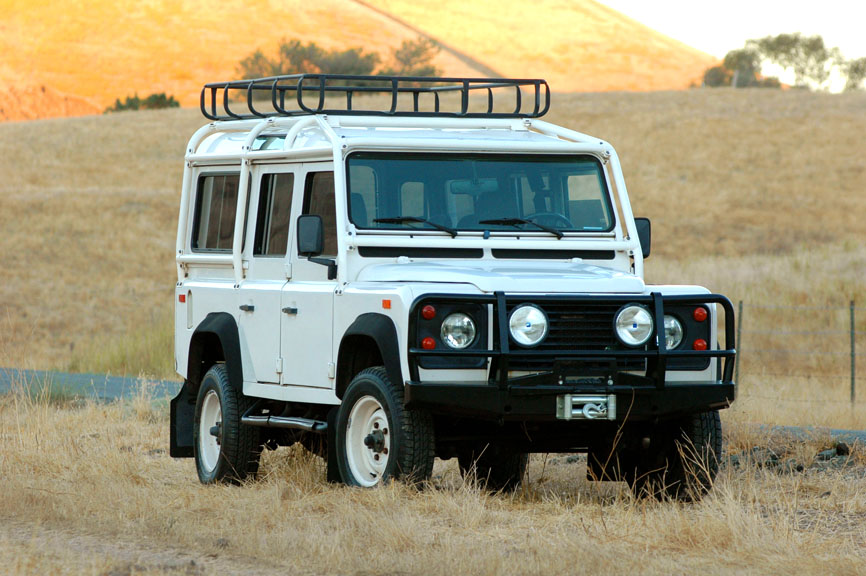 Exterior:

White

Interior:

Grey

Engine:

3.9 liter V8

Transmission:

5-speed manual

Mileage:

150,176 miles

s/n:

SALDH1285PA921307

Price:

SOLD TO AZ

1993 Land Rover Defender 110 North American Specification #401/500
This is a rare and desirable North American specification Land Rover Defender 110. Enthusiastically owned and cared for, the car has a number of upgrades including ARB air locker differential, Warn winch, roof rack, and heavy duty front bumper. It has been fastidiously maintained, with approximately $20,000 spent on maintenance and upgrades in the last 20,000 miles.
This car is in Pleasant Hill, CA
The Model
Simply put, the Land Rover Defender is a legend. There is perhaps no other utility vehicle that combines the prestige, durability, and capability of the Defender. In exotic locations around the globe, Series Land Rovers, and later Defenders, have been fixtures for decades, engaged in all varieties of work, from firefighting and police work to tourism to work as general workhorses for private owners. Their engineering has been robust and relatively simple, and the while they have been continuously developed, they remain fundamentally true to the very first Land Rover of 1948. The Land Rover has spawned quite a few copycats, but none have quite repeated its iconic styling or timeless appeal; the Land Rover is the true original.
The meaning and appeal of the Defender has been particularly strong in the United States. As is often the case, we were traditionally denied the coolest cars, including the Defender. But for 1993, Land Rover imported 500 North American Specification (NAS) Defenders. All were white 5-door hard top station wagons with grey fabric interiors on the 110 inch wheelbase, and each received a numbered plaque to indicate the vehicle's number in the series of 500. Fitted with 5-speed manual transmission, purposeful steel wheels, and an external roll cage, it was clear that the D110 was a businesslike implement, and very different from Land Rover North America's other contemporaneous offering, the Range Rover. LRNA subsequently went on to import 2-door Defenders on 90-inch wheelbases for 1994, 1995, and 1997, but never again would they officially import any Defender 110's. All Defenders are collectible, but the NAS 110's are particularly so thanks to the rarity. They have a rabid enthusiast following and are highly collectible, especially nice examples since many were used up thanks to their utilitarian character, and or have corroded extensively.
History
This particular example has escaped that fate, fortunately. It is a lovely fundamentally unmolested NAS Defender 110 that has covered plenty of lovingly applied miles, but has always been properly maintained and enthusiastically looked after. The body is in particularly fine shape, with no significant rust. The interior has been very well preserved, and the car has had considerable mechanical freshening and upgrades in the last 20,000 miles. Modifications include the addition of ARB air locker differentials, Warn winch, heavy duty front bumper, brush guards with Hella auxiliary lamps, roof rack, and OEM "Boost" alloy wheels as are specified to contemporary European market Defenders. The wheels were purchased about 3000 miles ago, and new BF Goodrich all terrain tires were fitted as well. The original steel wheels (five, including spare) are included with the car.
This Defender has known history from new, having been sold new on the 24th of March 1993 in Georgia. It remained in the South for the first ten years of its life, with owners and Georgia and North Carolina. It was then relocated to the West Coast, first in Seattle, Washington, and now in California. Its current owner acquired it in May of 2004, and has put less than 10,000 miles on it.
The service records go back to 2000, and include the following work:
31 August 2000: new alternator
11 October 2000: replace clutch, resurface flywheel, change oil in transmission, differentials, and transfer case.
22 November 2000 132,369 miles: remove and reseal transfer case, reseal intake manifold system, replace valve cover gaskets, belts, pinion seal
28 February 2001 132,306 miles: install front and rear ARB differentials
5 June 2001: replace ignition cap and rotor
13 June 2001 132,806 miles: replace intake gaskets, water pump, thermostat, gasket, repair air conditioning distribution system, repair speedometer, repair vacuum advance system
5 July 2001 133,390 miles: replace stepper motor, idle control valve, viscous drive, change brake fluid, replace fan clutch ,clean radiator, replace oil and filter, oil pressure switch
16 August 2001: Rebuild rear differential, clutch master and slave cylinders
27 December 2001: Replace catalytic converter
21 March 2002 137,299 miles: new brake rotors and pads, replace engine oil cooler lines, decarbon valvetrain, change oil, replace valve seals, change oil and filter, replace left front axle seal, change differential oil
30 January 2003: New center console with ARB switches, Tuffy center console, aftermarket stereo
5 February 2003 139,155 miles: lubricate chassis, top off fluids, change oil and filter, replace front swivel seals, front hub seals, steering seals,
11 May 2004: 141,139 compression check: 150-155psi on all 8 cylinders
8 February 2008: replace ignition switch and O2 sensor
During this period, regular oil changes have also been performed.
Condition:
Cosmetically, this Rover is in very fine shape. The paint is very nice as well, and appears to be substantially original. There are a few blemishes but the overall condition of the body is excellent. The paintwork is nice, with some oxidation, but it would respond well to being polished. The hinges show small amounts of the typical corrosion. The panels are straight and fit properly, and there is almost no rust, with the only noted corrosion being in the bottom corner of the left rear door (see photo), and in the left running board (see photo). There is a small dent in the bottom corner of the rear fender, which has been touched up (see photo). The lights and lenses are generally excellent, and there are H4 headlamps fitted. Some of the reflectors do have some cracking. The glass is excellent throughout, as are the wheels and tires, which have just 3000 miles on them. The original steel wheels are included in the sale. The trim and accessories are in very nice shape throughout.
The interior is in excellent shape regardless of mileage, and it is all the more impressive in light of the mileage. The upholstery is excellent throughout, as is the dashboard. The instruments and controls are in good shape, as are the original equipment Land Rover rubber floor mats and load space liner. There is full seating for 9 including the four jump seats in the load space. The controls for the differentials have been neatly integrated into the center console, and a costly aftermarket stereo including receiver and components has also been fitted. The headliner is intact but is sagging in a few places.
The engine compartment is stock and reasonably clean, though it would respond well to a thorough detail. Everything looks as it should, which is also true of the underside, which is extremely solid and is excellent throughout. The original owner's manual pouch with manuals, as well as the original toolkit are both present as well.
This is an excellent opportunity to acquire an enthusiastically owned example of this rare Land Rover. Nicely equipped and properly maintained with no expense spared, this Rover is a testament to the durability and quality with which Land Rover used to build their vehicles. It has always been kept in snow-free climates, and is accordingly an exceptionally solid example, and presents very nicely in all respects. It is also quite complete with two sets of wheels, original tools, books ,and service records back to 2000.