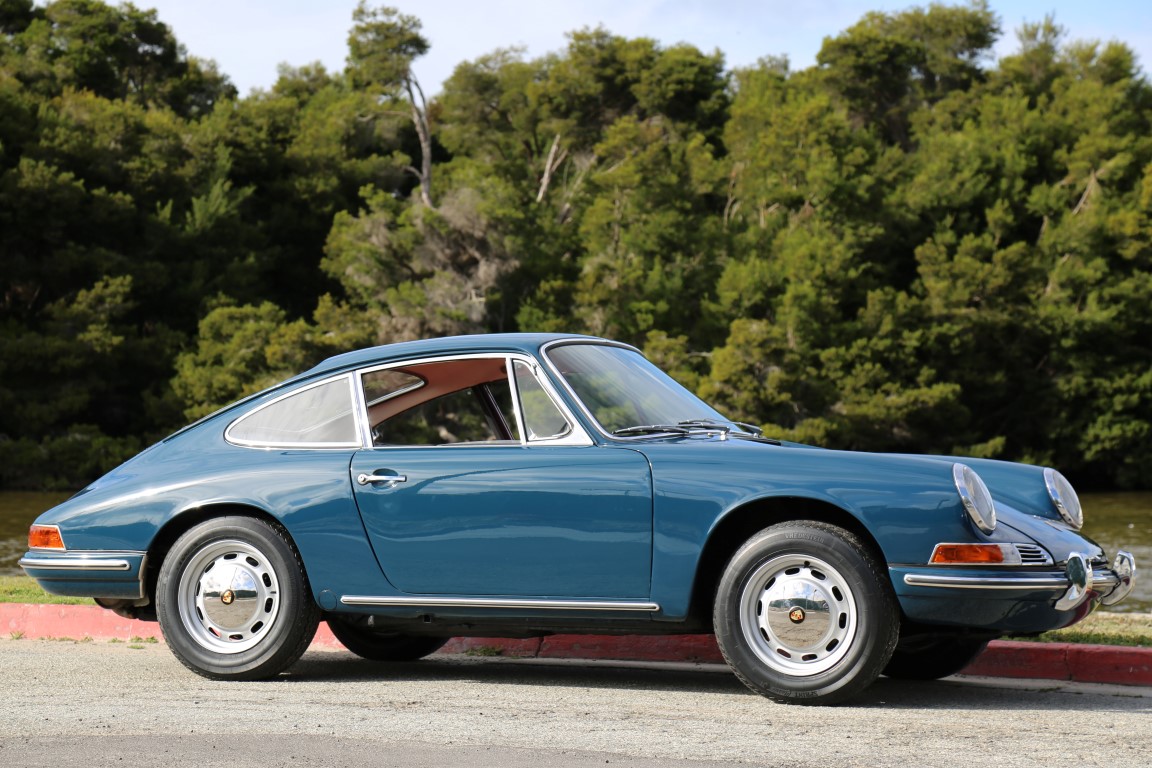 Exterior:

Aga Blue

Interior:

Red

Engine:

1600cc flat-4

Transmission:

4-speed manual

s/n:

456718

Price:

SOLD TO CA

1966 Porsche 912 Coupe
s/n 450750, engine no. 741130
Located in Monterey, California
This 912 Coupe was originally sold new in Europe and retains its matching engine. A factory Aga Blue car, this example originally had a black interior but now has a red interior. We purchased the car as a project in March of 2015 from a long-term (15 years) owner in Texas. It was silver in color with burgundy stripes, complete, and had a nice body aside from typical rust in the floors and front pan. We performed a body bare metal restoration which included new floor pans and front pan and a repaint in its original color (matched to original paint found behind the dash). Most other aspects of the car were renewed, although some others were not. A full list of the work performed is below:
Exterior
Strip to bare metal and repaint original color
Repaint engine compartment and fit new heat pad
New floor pans and front pan from Stoddard
Refinished wheels
New hub caps
New vredestien sprint classic tires
New exterior rubber: rubber gaskets, door handle gaskets, windscreen seals, deco rubbers, torsion bar cover seals, body seals
New exterior trim: new decos, bumper overriders, emblems/badges, antenna, exterior mirror, deck lid struts, door sill trims, window scrapers, fuel cap, license plate lights, door bolts, fuel filler flap and neck, engine grille hardware, wipers, fresh air tube, windscreen washer bottle
New turn signal lenses all round (European lenses since this is a European car)
New front windscreen
Interior
Interior upholstery (front and rear seats, door panels, parcel shelf, door tops, rear side panels, lower dash)
New carpets for interior and trunk (app biz perlon)
New headliner
Sourced an excellent used dash from a SWB 911S
Rebuilt instruments (polished glass and chrome, redone faces and internals)
New aluminum dash trim and radio block off panel
New pedal pads, parking brake boot, shift boot, battery strap and top
Mechanical/engine compartment
Rebuilt engine-new pistons and cylinders
Rear main seal
Fuel lines
Points
Sort wiring
Rebuild calipers, replace lines
Refinish engine sheetmetal
Fluids
Shift rail bushings
Refurb fuel tank as required
Rebuild fuel pump
Rebuild carbs
Rebuild wiper motor
Replace front trans mounts
Oil lines, pushrod tubes, fuel pump kit, exhaust clamps, tail pipe
Clutch, T/O brg
Brake rotors turned
New engine decals
The car comes with a CoA and invoices for most of the parts that went into the restoration. Some aspects of the car were not restored and show some age such as the interior dome lights, fuel cap release knob, shift and emergency brake levers, column switches, steering wheel, and seat hinges. The side window chromes and exterior door handles were not restored either and show some light pitting and aging but are presentable overall. The side windows also have some scratches. Most other cosmetic aspects of the car were replaced or restored and the car makes a strong impression and has lots of eye appeal. The car has European headlights although the lenses are US lenses. Reproduction European lenses are available and aren't that expensive by vintage Porsche parts standards. The paint is single stage and has nice gloss although close inspection reveals a few minor blemishes, the occasional drip, and some orange peel in selected which could be could be color sanded out. The paint has great depth and gloss. As it is, the car is an ideal example to drive. It presents crisply but isn't so nice that the next owner won't want to drive it, and it attracts tremendous positive attention wherever it goes.
The car runs and drives well. The engine runs very well, is nicely tuned, and makes good power. The brakes have a nice firm pedal and stop the car confidently. The steering and suspension are tight.