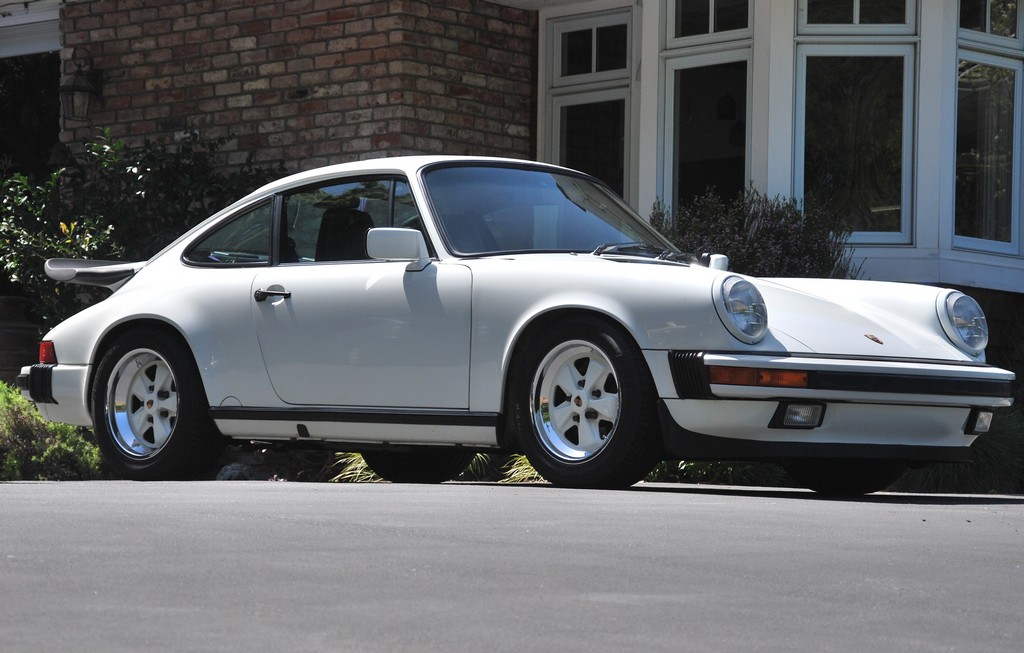 Exterior:

Grand Prix White

Interior:

Black Leather

Engine:

3.2 liter flat-6

Transmission:

5-speed manual G50

Mileage:

62,004 miles

VIN:

WPAB091XJS120310

Price:

SOLD TO CA

1988 Porsche Carrera 3.2 Coupe
This is, simply put, one of the finest Carrera 3.2s around. A low mileage G50 transmission car with known history and records from new, this car has been upgraded and maintained in a no-expense spared fashion by a series of fastidious owners. The car is in excellent cosmetic and mechanical condition, and is extremely complete with service records since new, books, tools, and original parts.
This car is in Orinda, CA
The Model
The Carrera 3.2 occupies a unique place among 911's thanks to its unique blend of classic 911 traits and more modern technology. As such, they are in many senses the ultimate usable classic 911 and have accordingly enjoyed renewed interest from enthusiasts (and increased values as well). Included among these traits are the instantly recognizable 911 styling cues, air-cooled engine, Fuchs alloy wheels, and torsion bar suspension. However, with the addition of electronic fuel injection, a galvanized body shell for improved rust resistance, and various electrical accessories, the cars run cleaner, perform better, last longer, and are easier to use in the modern world than older examples. Nevertheless, the electronic components are quite simple, making these the last of the cars that can be consistently maintained by the DIYer not owning computer diagnostic tools. While Carrera 3.2's were built in great numbers, they are old enough and usable enough that nice examples have become increasingly difficult to find. This variety of factors has led to noticable appreciation of values in recent years, and the fundamental appeal and decreasing numbers of specimen means that this trend is very likely to continue in the future. The most desirable variant, which has led the increase in value trend, is the 1987-1989 cars equipped with the significantly improved G50 transmission.
History
This particular example is a lovely car that has been fastidiously maintained and modified in a no-expense spared fashion by its perfectionist owners. It has records from new, and has covered just 62,000 miles. Sold new in Baton Rouge, Louisiana on the 21st of July 21 1988 for $45,376.40, the car remained with its first owner until 26 October 1989, at which point the car had covered 17,786 miles. The original purchase order is included with the car. The car's second owner was also in Baton Rouge, and kept the car until 2000, at which point car had covered 31,310 miles. It then passed through the hands of a number of other owners in the South before being purchased by an owner in California in April of 2006, with 47,229 miles on the clock.
This owner was a particular perfectionist and set about comprehensively going through the car as necessary (and some not necessary) to bring the car to his extremely high standards of what it should be. He spent over $30,000 on mechanical and cosmetic freshening, including nearly $15,000 on the engine to hot rod it some with ported and polished heads, 964 RS cams, SSI heat exchangers, M&K muffler, and Steve Wong chip.
Highlights of this car include:
$15k engine rebuild (see above)
Lowered with Bilstein sports, aligned and corner weighted by Roger Kraus Racing
Turbo tie rods
Elephant poly bronze spring plate bushings
16″ by 7″ and 8″ color coded fuchs with polished lips and color crests
Bridgestone Potenza RE050 tires
Cross drilled Zimmerman rotors
Stainless steel brake lines
New ring gear, starter, release and pilot bearings
Real HID headlamps with H4's
930S steering wheel with color crest
RUF pedals
Front surfaces repainted to remove road rash by Brooks Motor Cars
Alpine CD with iPod hookup
More detailed breakdown of the service history includes:
27 May 2005 at Sports Car Repair Inc (Houston, TX) 46,046 miles: Remove motor and replace clutch disc, engine sound pad, oil pressure sender, release bearing $1438.00
11 May 2005 at Departstop (Agoura Hills, CA): 930S steering wheel $423.00
15 June 2005 at Perfection Plus Porsche Specialist (Little Rock, AR) 46,502 miles: Install Elephant Racing spring plate bushings $1198.45
6 April 2006 at PorBoys German Automotive (Oakland, CA) 48,229 miles: Major service with new distributor cap and rotor, belts, spark plugs, fuel filter, change engine and transmission oil, new Bilstein shock absorbers, lower ride height $2,445.61
18 April 2006 at Rite Way Wire and Wheel Specialists (Walnut Creek, CA): Polish wheel lips $400.00
23 June 2006 at Roger Kraus Racing (Castro Valley, CA) 48,355 miles: align and corner weight car $380.00
19 July 2006 at PorBoys German Automotive (Oakland, CA) 48,600 miles: Replace ECU $1039.56
29 January 2007 at S Car Go (San Rafael, CA) 51,066 miles: Rebuild engine with new valve springs, rocker arms, valves, piston rings, 964RS cams, valve guids, port and polish heads, oil return tubes, crankshaft seal, chain guides, pilot bearing, M&K muffler, SSI heat exchangers, fabricate heater tubes to connect SSI exchangers to Carrera 3.2 blower system, backdate oil lines, replace fuel line, impulse sender, clutch slave cylinder, change brake fluid $14,460.37
3 April 2007 at S Car Go (San Rafael, CA) 51,809 miles: Adjust valves and change oil, change transmission fluid $821.22
4 May 2007 at Brooks Motor Cars (Oakland, CA) 51,966 miles: Repaint front bumper, install new valence and front spoiler, repaint rear valence, repaint headlight doors, repaint door mirrors, repaint left door $4372.04
28 November 2007 at S Car Go (San Rafael, CA) 53,856 miles: Install turbo tie rods, change oil, remove air conditioning, 4-wheel alignment, corner balance $1,904.10
6 June 2008 at A. Bauer (Oakland CA), 55,705 miles: Replace blower motor $438.48
24 June 2008 at Wheel Works (Oakland, CA), 54,000 miles: Replace rear tires with Bridgestone Potenza RE050 Pole Position tires $390.40
13 November 2008 at Holleran's Performance (Pinole, CA), 57,269 miles: Change oil and filter. $146.35
25 March 2009 at Pacific Power Motorsports (Concord, CA), 58,875 miles: Remove engine and transmission, replace release bearing, pilot bearing,clutch shaft bushings, release bearing fork, ring gear, install new starter, change engine oil. $2,789.77
Condition:
Cosmetically, the car is outstanding. The stance is perfect, and the car has tremendous presence in person that is difficult to convey in images. The body is solid, rust-free and excellent throughout, and appears to have no evidence of accident damage or other repair. The gaps and fit are superb throughout, as is the paintwork. There are no significant paintwork blemishes to speak of, and the paintwork has excellent luster and quality. It is substantially original, though it has been touched up in certain areas such as the front facing areas that usually have road rash. The side mirrors have clear bra installed to protect them from chips. The wheels are spectacular, with polished lips, color-coded centers, and color center crests. The tires are nearly new Bridgestone Potenza RE 050s. The trim is excellent throughout, as are the lights. The car has had H4 headlamps fitted, which have been fitted with proper full high intensity discharge lights. The glass is excellent throughout, though the coating on the inside of the windscreen has been compromised by someone cutting out a sticker that was on the inside of the screen. The glass is intact and is not cracked.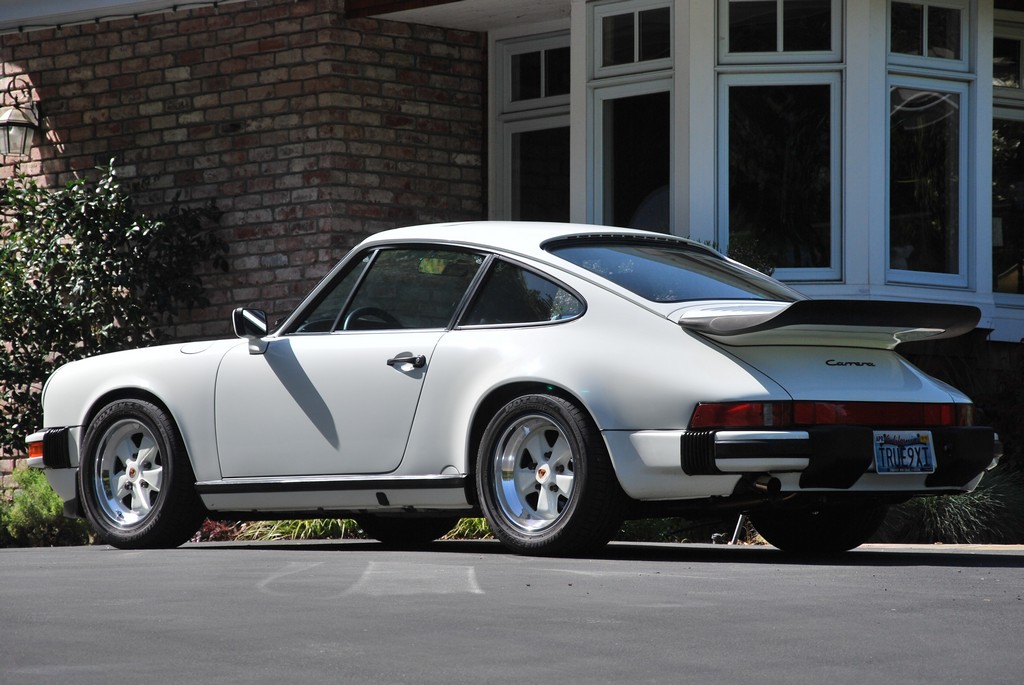 The interior is excellent and substantially original. The dashboard, instruments, and switches are in beautiful condition throughout, and the car has been fitted with a 930S steering wheel with color crest, though the original is included. The dashboard has no warping, cracking, or discoloration. A Momo shift knob has also been installed, and the original is included as well. The leather upholstery is original and is outstanding considering this, with only minor creasing. The carpets are very nice, and the car has three sets of rubber-backed Lloyds mats, two with red Carrera stitching (one set is brand new), and one with purple Carrera stitching. The car has purple seatbelts installed currently, but the original black ones are included as well. The headliner is excellent as well, and the sunroof works as it should.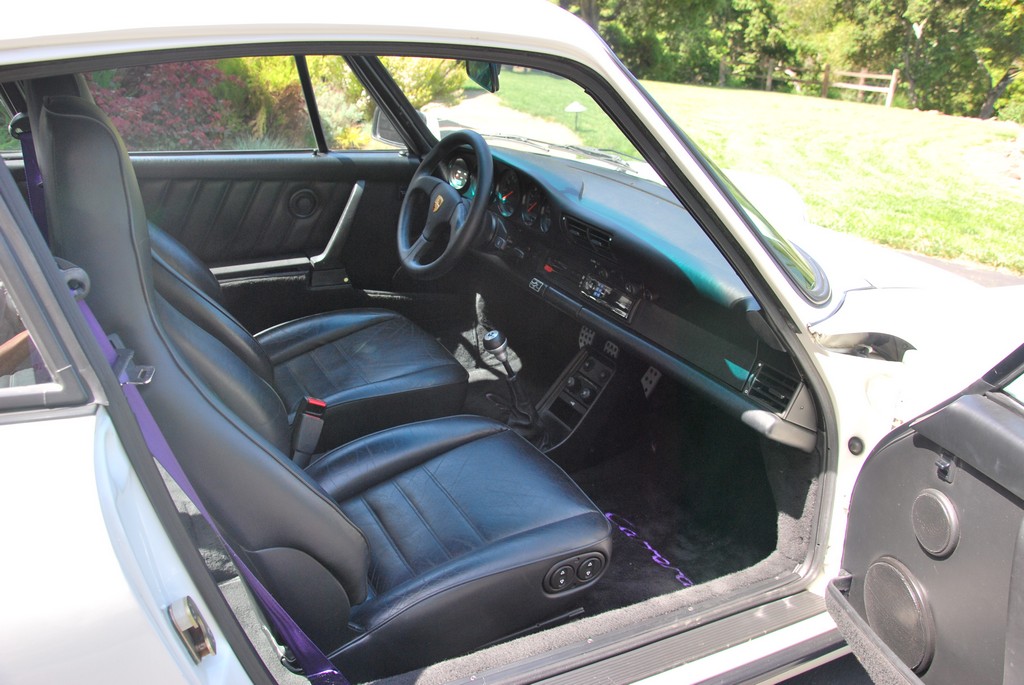 The engine compartment is very tidy and clean throughout. The intake plenum and fan have been finished in purple, and the fan shroud and fan have been finished in silver. The air conditioning system has been removed, but the original parts are included with the car. The trunk is very nice as well, with nice original perlon carpet, and original components such as the correct spare and tool roll with tools. There is no evidence of accident damage or rust, and the original paint color sticker and option sticker are both present as well. The hood shocks work properly both front and rear. The underside is also very nice, with excellent floorpans, and a extremely clean engine.
This is a truly unique opportunity to acquire an outstanding G50 Carrera 3.2 Coupe. The Carrera 3.2 is enjoying a tremendous resurgence in interest, with nice examples becoming increasingly difficult to find as they are squirreled away by enthusiasts. This particular example has been enthusiastically owned and personalized, but still preserves the original essence and purity of the torsion bar 911, with no ABS or power steering. Cosmetically and mechanically, the car is stunning. It is so crisp and clean, particularly in white, and its combination of stance and crispness really makes it "pop" visually. Mechanically, the car feels wonderful, while the soundtrack provided by the early-style heat exchangers and raucous M&K muffler is nothing short of awesome (see video!).
Vehicle Photos: