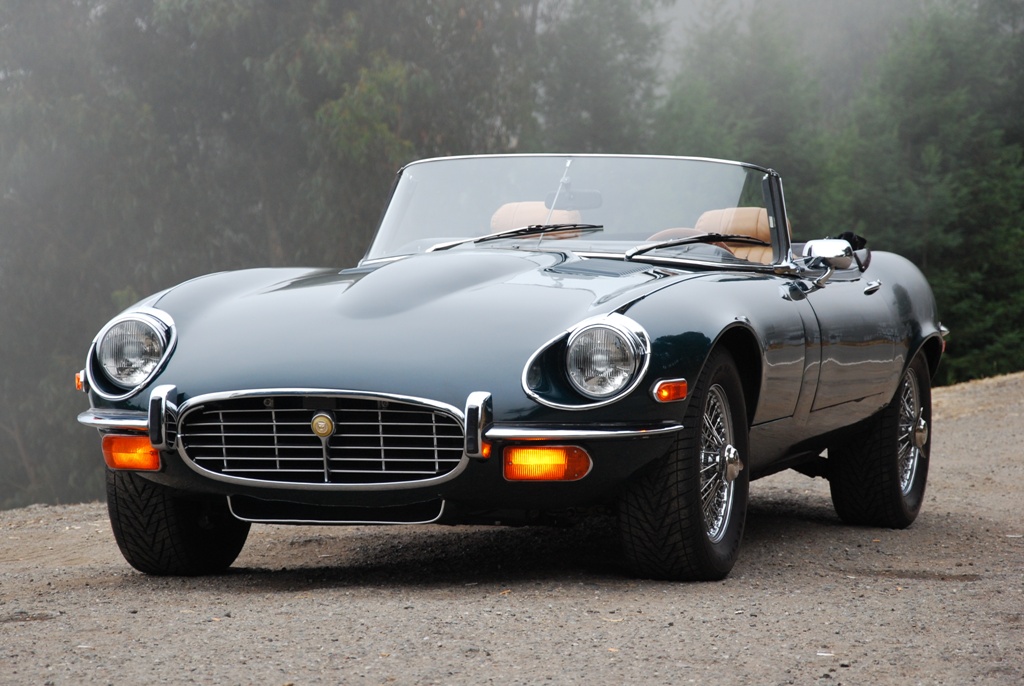 Exterior:

British Racing Green

Interior:

Tan Leather

Engine:

6.5 liter V12 (with Webers)

Transmission:

5-speed manual

Mileage:

38,000

Price:

SOLD TO MI

1974 Jaguar E-Type Series III V12 OTS Roadster
Highlights:
Low mileage car with very nice original interior
Excellent structure with no present corrosion or evidence of past corrosion
Extensive modifications to engine (6.5 liters, 6 Webers, 471hp!), driveline (5-speed), suspension, and brakes, more details below
Extremely fast, surprisingly reliable and tractable
Complete with factory hard top, boot, and full tonneau cover
Summary
This is an exceptional E-Type OTS that has been comprehensively modified for performance but looks virtually stock. The engine alone was over $23,000 and was bored out to 6.5 liters (matching-numbers) and fitted with 6 Weber downdraft carburetors, resulting in a stonking 471hp. It has a 5-speed transmission, as well as brakes and suspension upgrades. Despite its performance, the car is quite docile and has proven reliable, always starting and never running hot.
The car is very complete and well-equipped with wire wheels, factory hard top, top boot, tonneau cover, factory service manual, and a thick file of invoices. The car also has a thick sheaf of service records back to the late 1990s. The car was in the Portland area until I purchased it in 2009, and it has been in California since.
This is a very special car. In addition to being finished in one of the best color combinations for this car, it has been substantially modified to transform its performance while retaining a virtually stock appearance. It's extremely complete and well-behaved, both in terms of reliability and performance. Cosmetically, it is attractive and makes a strong presentation, but isn't so nice that it's burdensome to drive and use regularly.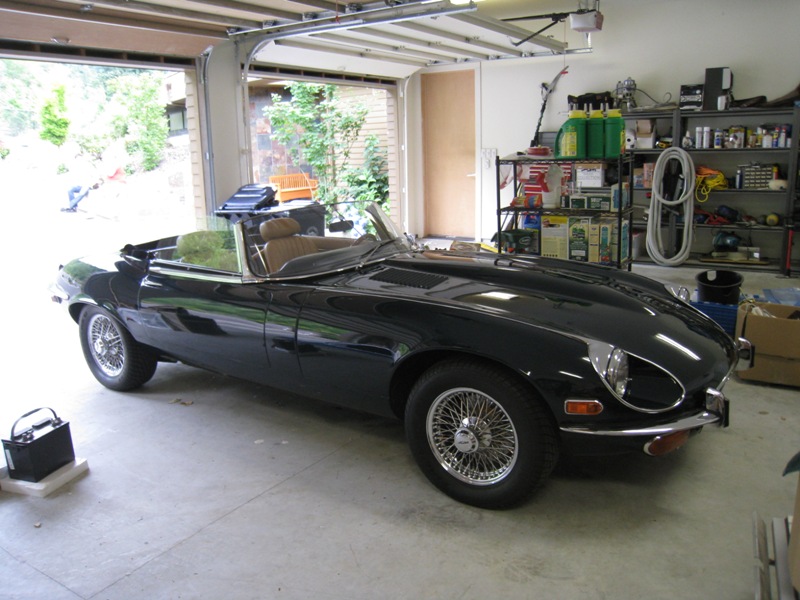 Engine modifications ($15,900 base plus additions below):
Fully rebuilt engine, bored to 6.5 liters, built by GT Jaguar
Carillo connecting rods
Venolia high compression forged pistons
6 40mm Weber 2-barrel IDF carburetors with performance filters ($4228.69)
Ported and polished cylinder heads
Performance camshafts
Bronze valve guides
Chrome moly head studs
Jet hot ceramic coated headers, collectors, reducers, intermediate pipes and interconnect ($1474.00)
High flow full stainless Falcon exhaust system ($509.00)
High performance ignition system($559.00)
Lightweight gear reduction starter($295.00)
Upgraded fuel pump
New main and forward wiring harnesses ($1507.75)
Dynoed at 471 hp at 5800rpm and 462 ft/lbs of torque at 5300rpm
Transmission and driveline:
5-speed Borg Warner (Medatronics) T5 with lightweight aluminum flywheel ($4800.00)
Aluminum flywheel
Heavy duty clutch
Replace differential bearings and reseal
Suspension:
Adjustable Spax shock absorbers (all six, $669.70)
Adjustable sway bars and slider links ($630.00)
Heavy duty torsion bars ($321.00)
Heavy duty rear springs, 30% stiffer ($315.00)
Solid steering rack mounts ($120.00)
Rebuilt steering rack ($525.00)
Rebuilt power steering pump ($265.00)
Adjustable power steering assistance bypass
Chrome moly front axles
Chrome moly fulcrum shafts ($249.00)
Solid brass outer fulcrum bearings
New tie rod ends
Anodized steering arms ($59.00)
Heavy duty adjustable ball joints ($149.00)
Replace all suspension bushings
Wheels and brakes:
Wilwood front calipers with vented front rotors ($1075.00)
New master cylinder
Rebuilt brake servo
Dayton wire wheels with heavy duty stainless spokes and nipples with "show polish" finish and tubeless sealing upgrades ($1594.59)
Other bits:
Hardtop
Owner's manual
Factory service manual
Top boot
Full tonneau cover
About the E-Type
The E-Type is an automotive icon thanks to its blend of its arrestingly gorgeous appearance, innovative technical specification, world-class performance, and surprisingly affordable price. The car evolved over its fourteen year life from a delicate and pure sports car to an elegant grand tourer. The Series III was powered by an impressive new V12 engine, in an era when the only other 12-cylinder road cars available were Ferraris and Lamborghinis. The magical smoothness and torque of the 12 was ideally suited to the car's newfound relaxed demeanor.
This Car
However, many mourned the passage of the sporting character of the E-Type, and this car has been modified to recapture some of the driving excitement and precision of the earlier E-Types, while providing outstanding performance. While the car appears largely stock, it has extensive modifications to the engine, driveline, suspension, and brakes, to turn it into a tractable yet monstrously quick car. The engine has been bored to 6.5 liters and fitted with 6 Weber IDF 40 two-barrel downdraft carburetors (yes, one barrel per cylinder), and is backed by a heavy duty clutch, aluminum flywheel, and modern Borg Warner Medatronic 5-speed gearbox. The suspension has been thoroughly reworked as well, and the car has upgraded Wilwood front brakes with vented rotors fitted. A more complete spec list is available below.
This car was purchased by a collector in 1997 from a dealer in Portland, Oregon for $37,000. The car had 27,789 miles on it and the owner traded in a 1963 E-Type Roadster. At that time, this car was a stock 4-speed example. The car was repainted in 1998 in its original color, and in 2001, the motor was crated and sent to GT Jaguar for their 6.5 liter "Stage III" engine, which includes Venolia pistons, Carillo connecting rods, and six Weber downdraft carburetors. This engine was dyno'd at 471hp and cost approximately $23,000 including carburetors and exhaust system. The engine, transmission conversion, and suspension work were completed when the car had 32,349 miles on it. Today, the car shows 38,000 miles, and the engine builders reported that condition of the internal components of the engine supported the indicated mileage. I purchased the car in the summer of 2009 and have used it occasionally for pleasure since.
Condition
The car is in good cosmetic shape with a few blemishes but strong overall presentation. The car has never been completely disassembled for restoration but has had much restorative work.
Other work included:
Replace windscreen, seals, replate windscreen chrome
Replate or replace some other chrome as well including hood trim and grille trim
Fit new black canvas top
Replace most rubber trim
Replace numerous decals and badges, windscreen wiper arms and boot lid latch.
Replace heater box and blower motor
The panels are straight and solid, and the car is structurally excellent. Some of the chrome is unrestored and is showing some haze and light pitting in selected areas (door handles, headlight trim). The bumpers very good, save for some pitting and small areas of damaged finish to center section of the rear bumper. The wheels were replaced with stainless steel Dayton items when the rest of the work was performed. The car also had its unsightly large front overriders removed from the front and replaced with European type ones. The bonnet fits and operates as well as any E-Type I've experienced, while the doors and trunk lid could stand to have the gaps adjusted. The top is black Sunfast canvas and is like new, with perfectly clear rear window. The car has a full canvas tonneau cover, canvas top boot, and factory hardtop, which was repainted and fitted with new seals, though the headliner is unrestored. The glass and lights are excellent throughout. The car has superior Hella headlamps, and I added the European type front turn signal lenses.
The interior is original and is excellent considering this. The clock has been converted to quartz operation ($235.00), and a wood-rimmed steering wheel has been fitted ($360.86). A CD player was added as well. The gear shift knob is alloy and the interior appears stock otherwise. The only significant blemishes are some holes in the backs of the seats from the top mechanism. The leather, dashboard, instruments, and carpets are all original and are excellent considering this. All switches, instruments, and controls work properly to my knowledge. Even the wipers, instrument illumination, and electric aerial work correctly.
Driving Experience
The car is extremely fast while also being quite tractable and well-behaved. Bury the throttle at any speed in any gear and the car leaps forward and the Webers howl in a way that no fuel-injected modern car can. The exhaust isn't particularly loud, but is a full stainless system. The engine is hugely tractable and starts easily from hot or cold with correct technique (a few pumps, then closed or slightly cracked when cold, WOT when hot). It's a touch cold-blooded because it has no chokes, but idles beautifully once it has had the chance to warm up for a few minutes.
The clutch is not excessively heavy and is quite progressive, making the car surprisingly easy to drive. The Borg Warner 5-speed gearbox is thoroughly modern in operation with slick shifting action and excellent syncros. The gearing is very tall, making the car well-suited to relaxed cruising (60mph in 5th is a little more than 2000rpm). The steering is light and precise, and the chassis surprisingly solid and planted for a nearly forty year old British roadster. While the car is not a precision 10/10ths driving instrument like a properly set up Porsche 911, it's an enjoyable car to hustle through twisties, not an unwilling participant like a stock SIII E-Type. It cruises well on the highway, though the steering is somewhat vague and light on center.
Ownership Experience
The car is well-behaved and has been quite reliable while I've owned it. It has never failed to start while for me, and I've taken it on two long trips without incident. I bought it in Washington state and drove it back to the San Francisco Bay Area down the coastal route on 101 (about 800 miles)and the car behaved faultlessly. Additionally, I took the car to Monterey and back (350 miles roundtrip) in a single day for the Historics in 2010. It never runs hot, even sitting in traffic on a hot day.
The car has been properly maintained and serviced, with regular fluid changes and work to keep the car running properly. I had Jim Groom (who is famous among vintage racers for his excellent competition prep and fabrication work) fabricate an entirely new carburetor linkage to allow the carburetors to be properly synced and give more clearance from the hood. Groom also replaced the ignition system, rejetted the carburetors, and changed the oil.
Photos from Washington state trip
Vehicle Photos