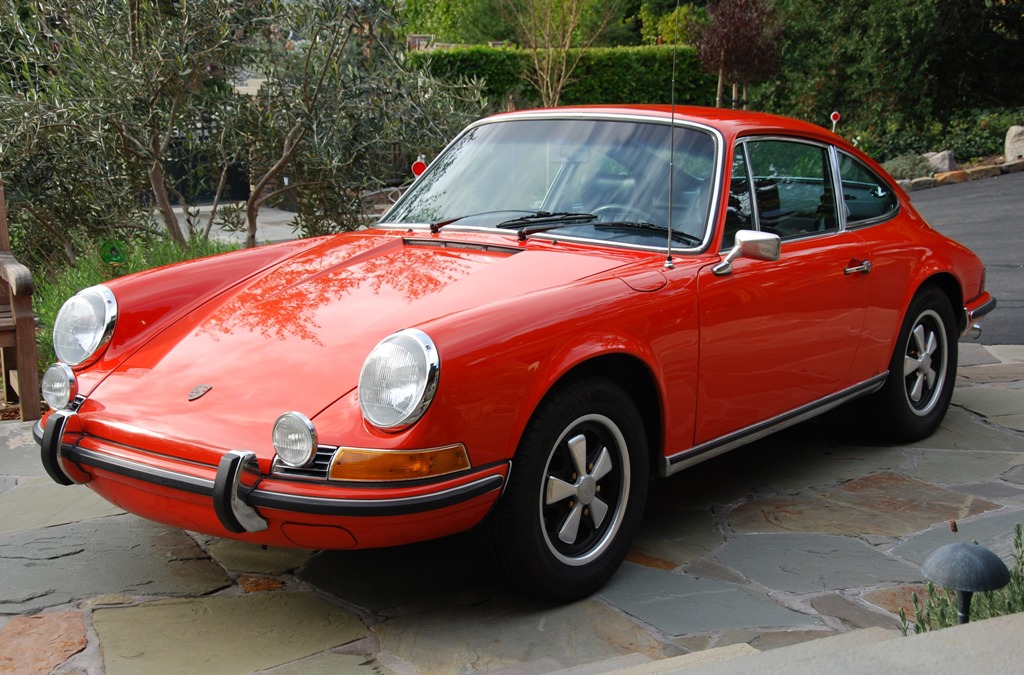 Exterior:

Tangerine

Interior:

Black

Engine:

2.4 liter MFI flat-6

Transmission:

5-speed manual 915

Mileage:

75,321 miles

s/n:

9112102334

Price:

SOLD TO COLOMBIA

1972 Porsche 911T Sunroof Coupe
This is an extremely solid rust-free outside oil filler 911T Sunroof Coupe. The car is an outstanding driver with great options, and remains in its original color combination of Tangerine with black interior. Original options include sunroof, Blaupunkt radio, front and rear sway bars, S trim, and S gauges. The car also has H4 European headlamps and correct through-grille Hella foglamps. The car is extremely complete with records, tools, jack, books, spare keys, and original sales material, and has been very well maintained.
This car is in Lafayette, CA
The Model
Early 911's are rare finds today among collector cars. They have unparalleled drivability and usability, especially when compared with other cars of the same vintage. There is a certain wholeness, cohesiveness, agility, and communicativeness that is only evident when they are driven, and it is no surprise that they have a fanatical following. Until quite recently, however, they were just used cars, which makes finding genuinely solid which have been continuously cared throughout the car's life very difficult today. All early 911's have appreciated tremendously in recent years, with good solid cars seeing especially significant increases in value. The late cars (1972 and 1973), which are fitted with 2.4 liter engines, are very desirable, and are generally regarded to be the ultimate development of the original 'long hood' 911.
History
This particular car is an outstanding matching-numbers rust-free car with great options and documentation. It remains in its original color combination of tangerine with black interior, and is equipped with sunroof, S gauges, S trim, front and rear sway bars, and Blaupunkt radio. The car has also been fitted with correct through-grille Hella fog lamps and European H4 headlamps. The current owner is a collector and purchased the car in March of 2007, and the car was previously with a number of other Porsche enthusiasts. It was sold new in at Commonwealth Porsche-Audi in Boston, Massachusetts on the 26th of July 1972, but was relocated to New Mexico in 1975. In 2006, the car was acquired from an owner in New Mexico by an owner in California, where the car has remained since. The car is very complete with original sales brochure, two black and two red keys, manual pack with owner's manual and maintenance book, Bilstein jack, and original tool roll with tools. The car also has service records since 1999, which in summary include:
1999 (70,483 miles): Brake master cylinder and lines, oil return tubes, numerous gaskets, shift linkage bushings, turn signal switch
2000: new clutch, rear main seal, ignition wires, filters, fluids, spark plugs, new distributor
2005 (73,337 miles): Oil service, front wheel bearings and seals, some window seals (including windscreens), front brake pads, new Boge shock absorbers, new headliner
In 2006-2007, the car received much work, including:
R and R engine: replaced MFI pump belt and engine compartment insulation with OEM pad; replaced broken plastic throttle linkage bushing; replaced all fuel lines in engine compartment. Cleaned engine and transmission and replaced oil in both.
Valves adjusted, new valve cover gaskets
New Dansk painted stainless steel muffler
Oil return tubes replaced
Newer brake lines
Rear ¼ window rubber replaced on both sides
Five correct 6×15 inch Fuchs wheels (part number 911 361 020 00) with 3-prong caps
Wheels painted by Weidman Wheels, original anodized finish
Five brand new Michelin 195/65-15 Pilot Exalto tires
New Sunroof seals
Two brand new correct Bosch red trumpet horns
Since then, the car has had regular maintenance, and much effort spent fixing oil leaks, including replacing the oil tank and many hoses.
The car is in very nice cosmetic condition, having been repainted in its original color. The body is excellent, with extremely straight panels, even and tight gaps, and great panel fit. The front valence is slightly bowed. The paintwork was renewed to high standards, though close inspection reveals some blemishes and other small flaws, though nothing to detract significantly from the car's strong overall presentation. There are a few chips that have been touched up, as well as some small chips on the front surfaces of the car from regular use. The car's previous owner reports that the paint in the door jambs, engine compartment, and trunk is original, and the car's presentation is consistent with this. The chrome and metal trim are excellent throughout, as are the lamps. The badges are nice as well, including hte orange bar hood crest. The wheels have been properly refinished by Al Wiedman and wear Michelin tires with good tread remaining. The glass is excellent throughout, and appears to be original with the exception of the windscreen.
The interior is excellent and has been redone to high standards. The front seats have been redone and are excellent, and the headliner has been replaced. The back seats are original and are excellent considering this, and the carpets have been redone to high standards in OEM like material. The car has high quality Lloyds rubber-backed over mats, front and rear. The dashboard is very nice, though it had two small cracks in the past, which have been repaired. The instruments and switches are excellent. The door panels are also excellent, including the door pockets. The Blaupunkt radio works well, through the speaker on the dash. No speaker holes have been cut anywhere in the interior.
The engine compartment and trunk are both original and in very fine shape. The trunk floor, battery boxes, and front suspension pan are excellent, being both solid and rust-free. The trunk carpet set is complete, and the spare is present and correct. The smugglers box is also rust-free, like the remainder of the car. The engine compartment retains its original yellow fan shroud, and is quite original and correct in appearance. It is tidy, but has light soiling from use, and would respond well to an afternoon of detailing.
The car drives superbly. The chassis is taught and composed, and the suspension performs as it should. The steering is light and responsive, and the brakes work seamlessly and effectively. The transmission is nice, with good synchros, and the engine is in good shape, with well-tuned injection. There are no significant rattles, and the overall impression is of a well-cared for and coherent car that supports the indicated mileage of 75,000.
This is an excellent opportunity to acquire a collector quality early 911. This car is extremely solid and rust-free, and is in its original desirable color combination, with desirable options. It is also well documented and extremely complete with records, books, tools, jack, spare, and original sales literature. It is cosmetically very nice (but not so nice as to discourage its new owner from using and enjoying it) and runs well, making it an ideal event or touring car.
Vehicle Photos