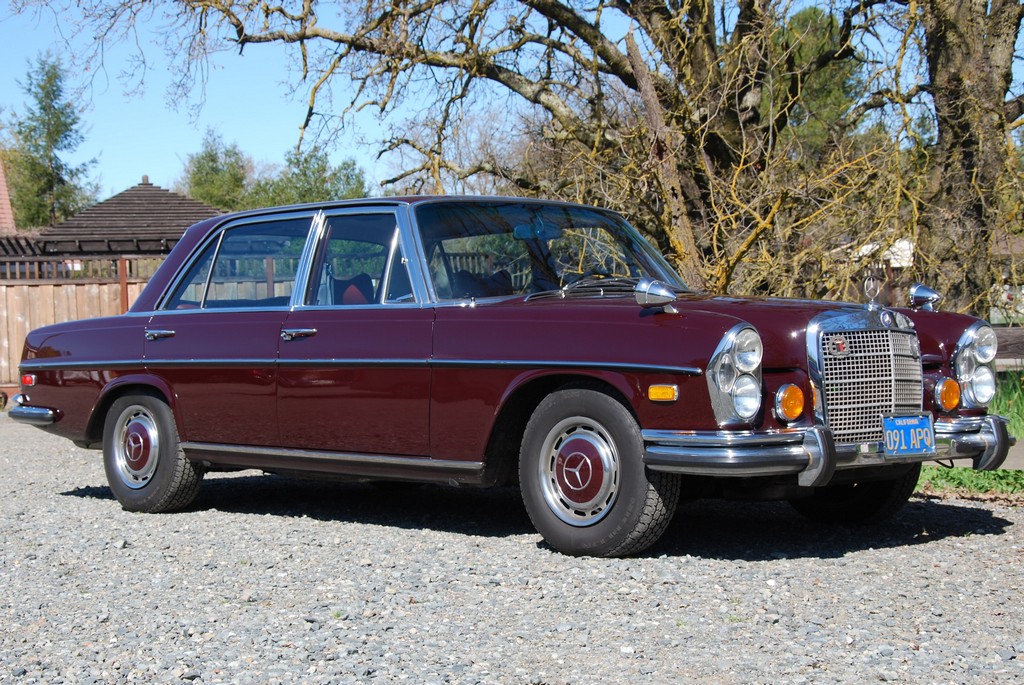 Exterior:

Burgundy

Interior:

Burgundy Leather

Engine:

6.3 liter mechanically fuel-injected V8

Transmission:

4-speed automatic

Mileage:

44,333 miles

s/n:

109.018-12-003410

Price:

SOLD

1970 Mercedes 300SEL 6.3
This is a lovely highly original 300SEL 6.3. A two-owner California car, this car has covered just 44,300 miles from new. It it remains in its original paint, and its chrome is original as well. The interior is substantially original as well, and the car is a beautifully preserved example that also runs superbly. The car is tremendously complete, with complete manual pack, service manuals, original sales literature, two sets of tools, and service records.
This car is in Alamo, CA
The Model
"Merely the greatest sedan in the world". These words, published in the November of 1968 issue of Road & Track perfectly sum the significance and quality of the 300SEL 6.3. Simply put, there was nothing like it in terms of build quality, handling, or performance. The car has become legendary, and even the story of its creation has become something of a legend. Apparently, the engineer responsible for its creation, Erich Waxenberger created the car with no formal approval from Mercedes management, by fitting the excellent 6.3 liter V8 from the 600 into a standard 300SEL body, effectively doubling the displacement of the 3.0 liter inline-6 originally fitted to the 300SEL. He built the car at the factory, working in his spare time, and also took the time to fit larger wheels and upgrade the brakes. When Rudolph Uhlenhaut, then director of Mercedes' planning (and also the man largely responsible for Mercedes' Silver Arrows of the 1930's and 1950's, and their GP dominance) experienced the car, he was sold. Purportedly, Uhlenhaut heard the car drive by his office and insisted to be informed what it was, and was then provided with the keys. So impressed was he with the car's performance and manners that the car was put into full production.
The indtroduction car circulating Laguna Seca in June 1968 with Rudolph Uhlenhaut at the wheel (not this car!).
Today, the 6.3 remains an iconic car, one that is often credited with being the granddaddy of all sport sedans, creating the genre that is so pervasive and enjoyable today. The specifications were impressive: 6.3 liter overhead valve fuel injected V8, disc brakes and independent suspension all round, air suspension with adjustable ride height. Moreover, the car's manners and behavior were nothing short of outstanding. While American sedans were floaty, vague, and insular, the 6.3 was at once communicative, well-controlled, and supremely comfortable. And then there was the performance. With 300hp, and 434 ft/lb of torque, the car was rapid in a way that was truly shocking at the time. Indeed, the 0-60 numbers bettered the Porsche 911S and the Iso Rivolta, and equaled that of the Ferrari 330 GTC! The top end was something on the order of 140mph, and in typical German fashion, the car was perfectly happy to cruise at 110 or 120mph. But there was more to the car than straight line performance, as Mercedes clearly indicated by unveiling the car at the famous Laguna Seca racetrack near Monterey California in June of 1968. The roadholding, ride quality and brakes wowed journalists, and bettered most sports cars. Road & Track went on to summarize the car by explaining that the 6.3 was "truly the executive road racer [that]…does more different things well than any other single car." And so the 6.3 is a legend today. With a price of $16,000 when a Porsche 911 cost $7200, the car was extremely expensive, and 6,526 were sold in all. Many have succumbed to rust, use, or neglect, making low mileage survivors both extremely rare, and highly valuable.
History
This is one such survivor, an extremely original and beautifully preserved 2-owner California car that has covered just 44,300 miles from new. Sold new on the 14th of January 1970 to a Walter Bach of North Hollywood, California, this car has always been in California, and retains its original six-digit blue and yellow license plates. Mr. Bach was the industrialist behind Bach Auricon Incorporated, whose 16mm sound on film motion picture cameras were once de rigueur for portable television journalism. Mr. Bach was a fastidious and eccentric fellow who adored this car, as is amply evidenced by his thoroughly annotated manuals which survive with the car today. Nearly every page of both the owner's manual and service manuals has been underlined or annotated, and Mr. Bach thoughtfully included signatures, dates, and locations on the documentation with the car. The car eventually fell into disuse in the late 1980's, and was stored for some 16 years before being acquired from his estate in 2004. At this time, the car had covered just 36,000 miles from new, and of course required mechanical recommissioning after having sat for so long. The car was reanimated in a conservational and sympathetic fashion, so that the car remains extremely original throughout, with a lovely patina. Mechanically, however, the car is extremely sound, and has certainly benefitted from the extensive mechanical freshening performed over recent years. In the last five years, over $32,000 has been spent on the car, to perform work which includes the following:
21 April 2005 at Nick's Mercedes Service (Lafayette, CA), 35,887 miles: oil service and inspection, install fuel filter and fabricate fuel hose, replace transmission mount and driveshaft flex disc kit, install new front Bilstein shocks, install new vacuum door valve in left rear door, install heater levers, remove old and install new trunk seal, install new exterior mirror, adjust wing window and weatherstripping, replace air intake boot and air filter, replace air suspension one-way valve, top up air suspension alcohol reservoir, new fuel cap, partially reupholster seats and fit new carpet to parcel shelf and driver's footwell. The tech noted, after careful inspection, that the car appeared to be an excellent original example whose mileage was correct. $7325.18
24 August 2005 at Nick's Mercedes Service (Lafayette, CA), 36,875 miles: service air conditioning system, renew front air suspension valves, replace entire exhaust system with stainless system, oil service, repair emergency brake cable, lubricate steering column, source and install new steering column indicator switch, replace A frame bushings. $6398.57
27 July 2006 at Nick's Mercedes Service (Lafayette, CA), 37,727 miles: service air conditioning system, remove battery AC hoses to evaporator from compressor, sublet fabrication of new hoses, replace receiver dryer. $2014.75
23 August 2006 at Nick's Mercedes Service (Lafayette, CA), 38,182 miles: remove right front, right rear, and left rear door panels and install new vacuum door valves, install new window felts and weatherstrips, lube and adjust window mechanisms and door stops, install new vacuum locking element for fuel door, install new air conditioner compressor and AC clutch, replace expansion valve, flush AC system, recharge system. $4986.23
29 September 2006 at Genesis Auto Upholstery (Walnut Creek, CA): upholstery work to passenger cushion and rear cushion. $976.50
13 March 2007 at Nick's Mercedes Service (Lafayette, CA), 38,830 miles: major service, adjust valves, replace valve cover gaskets, lube chassis, change oil and filter, replace fuel filters, reset fuel injection, replace points and spark plugs, install new driver's window lifter assembly, adjust vent windows. $1870.88
29 March 2007 at Nick's Mercedes Service( Lafayette, CA), 39,061 miles: disassemble front suspension, install new motor mounts and front subframe mounts, remove radiator, flush coolant system, replace radiator mounting kit, remove instrument cluster, send clock, speedometer, and tachomterer for rebuild at Palo Alto Speedometer for rebuilds, replace dimmer switch. $4981.19
10 April 2007 at Walter Odemer Co. : fit new speaker coil, capacitor and repair bandswitch in Becker Grand Prix radio. $269.70
26 March 2010 at Nick's Mercedes Service (Lafayette, CA), 44,350 miles: Replace front brake rotors and pads, replace front left brake caliper, replace front wheel bearings, rebuild water pump, change engine oil and filter, lubricate chassis, inspect air suspension for leaks and tighten fittings.
There are many other receipts included, which total $32,236.61 spent in the last five years. During this period, the car's current owner, a fastidious collector, has used the car regularly, covering some 8500 miles. The car has seen regular use, and was even regularly used to transport his children to school.
Condition
Cosmetically, the car is in lovely original condition. The body is outstanding, being extremely straight with excellent gaps and fit. Close inspection revealed no visible rust. The panels operate smoothly and the doors especially shut with the famous solidity that seems to come only from Mercedes-Benz. The paint appears to be original throughout, except for on the rear panel between the taillamps, which was repainted at some point to not very good standards. The remainder of the paint is very nice considering its age, with a few blemishes here and there. It has worn through in a small area on the front left fender, and there are a few small chips and scratches, the most significant of which is on top of the trunk lid. On the whole, however, the paint is extremely nice, with very nice luster. The chrome also appears to be original, and is very nice considering this. There is some pitting in selected areas, though it is minor. The original owner added a pair of racy Talbot mirrors to the front fenders, but the exterior of the car is otherwise stock. The rubber trim is nice on the whole, though the windows seals are starting to show their age. The glass and lamps are excellent, including the flat face Hella headlamps, which were added for functionality by the current owner. All glass appears to be original, with correct labels. The tires are older Michelins.
The interior is also superbly preserved and extremely nice throughout. The dashboard is excellent, with excellent Zebrano wood . The switches and instruments are also excellent, and the dash pad is free from cracking or warping. The car has a Becker Mexico radio, which was recently serviced at great expense, and works well. The leather upholstery is extremely nice, with a few small creases and cracks (see pictures). Certain areas have been reupholstered, using the correct leather with square perforations, and the car is fitted with five Kangol safety belts. The carpet is original, save for on the parcel shelf and driver's floormat, and is excellent considering this. The wood is excellent throughout, with excellent door fillets, and window surrounds. There are a few hairline cracks in the finish of the wood around the base of the windscreen. The door panels are excellent, as is the headliner. The overall impression of the interior, like the rest of the car, is that of a beautifully preserved and highly original car that is a testament to the level of care and quality with which Mercedes used to build their cars.
The engine compartment and trunk are both very correct and original in appearance. The trunk floor is very solid, and the correct rubber mat is still in place. The spare tire and mechanism are both in place and are in fine shape. The engine compartment is tidy and looks as it should ,with light soiling that would be transformed by an afternoon spent detailing.
The car drives superbly. It is extremely solid and free of structural rattles. The ride is supple without being vague, and the car tracks beautifully at all speeds. The air suspension works properly, maintaining the correct ride height, and the adjustable ride height function works correctly. The engine is every bit as wonderful as the legend suggests, providing levels of performance that, while not shocking today, are breathtaking if one considers what other cars of the period are like. Upon startup, the oil pressure immediately comes up to high levels, in the typical Mercedes fashion. The car feels surprisingly modern to drive in that the brakes, suspension, transmission and performance are delivered in a reassuring and fuss-free way that makes the driver feel immediately at home and trust the car, even at high speeds. The brakes operate in a linear and progressive manner, in addition to being quite capable.
This is an outstanding opportunity to acquire a collector quality example of a true legend. At the time, the 6.3 was fastest sedan in the world, but it was a great deal more as well. Hugely capable brakes and roadholding made the power imminently usable, while the car also included the convenience and luxury features required of such a costly car. This particular example has been enthusiastically owned, carefully maintained, and lovingly looked after. It is a documented 2-owner California car that is accordingly extremely solid, while the recent maintenance and mileage ensures that the car runs extremely well at this time. Lastly, the car is extremely complete, with two tool sets, service manuals, manual pack, and service records.
Vehicle Photos