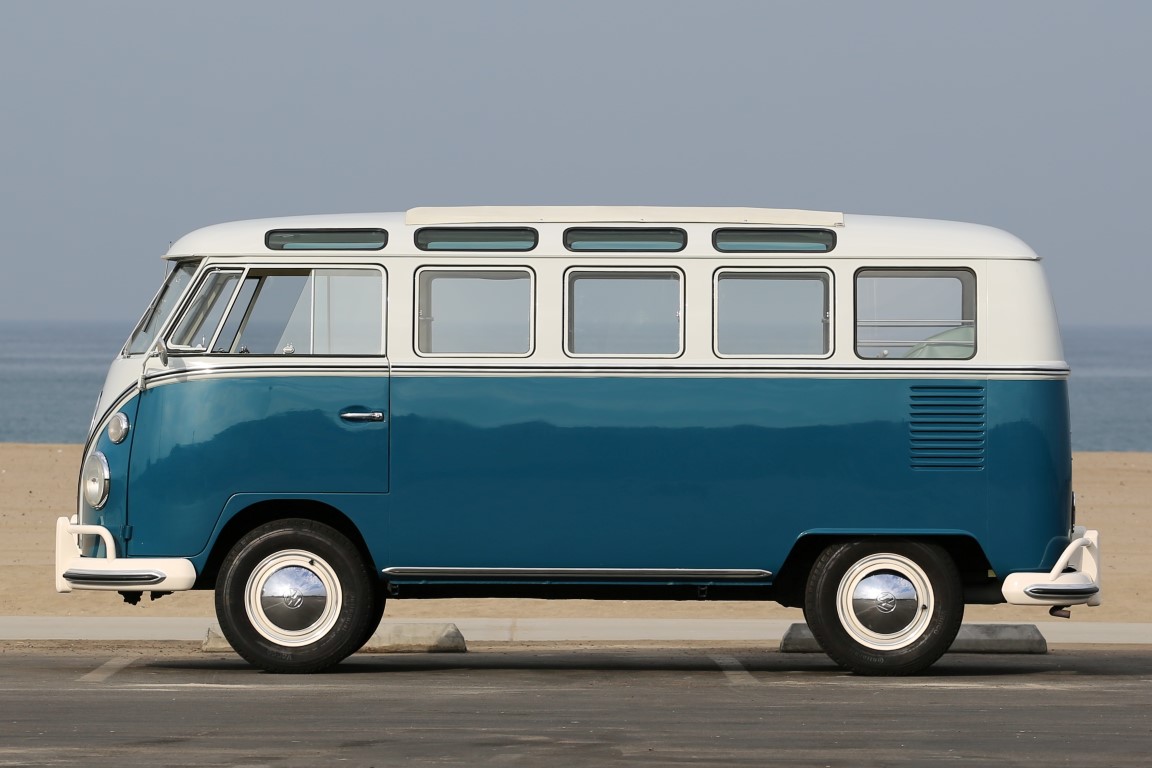 Exterior:

Two-Tone Sea Blue and Cumulus White

Interior:

Aero Papyrus and Steel

Engine:

1.5 liter flat-4, no. H132999X

Transmission:

4-speed manual

s/n:

247064997

Mileage:

17,852

Price:

SOLD TO NH

1967 Volkswagen 21-Window Deluxe Microbus
A lovely walk-through 21-window Deluxe with fascinating Southern California history with the same owner for the last 29 years. Enthusiastically owned, showed, and maintained, this example has been serviced by The Bus Stop for decades and recently had over $3200 in work to bring it to its current excellent mechanical and cosmetic condition.
Located in El Segundo, California.
History
This is an October 1966 production walk-through 21-Window Deluxe Microbus with a fascinating story. A longtime California bus, this example has been in the care of the same owner for the last 29 years, along with a 13-window 1966 Deluxe in the same color combination that she bought new. When the 66 was stolen in January of 1986, the family was crestfallen, and enlisted friends and family members to keep an eye out for the missing bus, which she had purchased a year before her daughter was born and was therefore considered to be part of the family at least as much. Over the course of the search, which involved driving around East LA and looking down driveways and in body shops, the same daughter happened across this 21-Window in a body shop, which had been stolen from SOTO member Don Gross around the same time as the family's '66 had been stolen.
They tipped off police, providing the key to what ended up being an organized crime ring and led to the arrest of several gang members, along with the recovery of both this '67 and the family's original '66. Given that this '67's owner had already been paid by his insurance, it was put up to auction and the family "adopted" a second seeblau/cumulusweiβ Deluxe, and the two have lived side-by-side in the family garage ever since.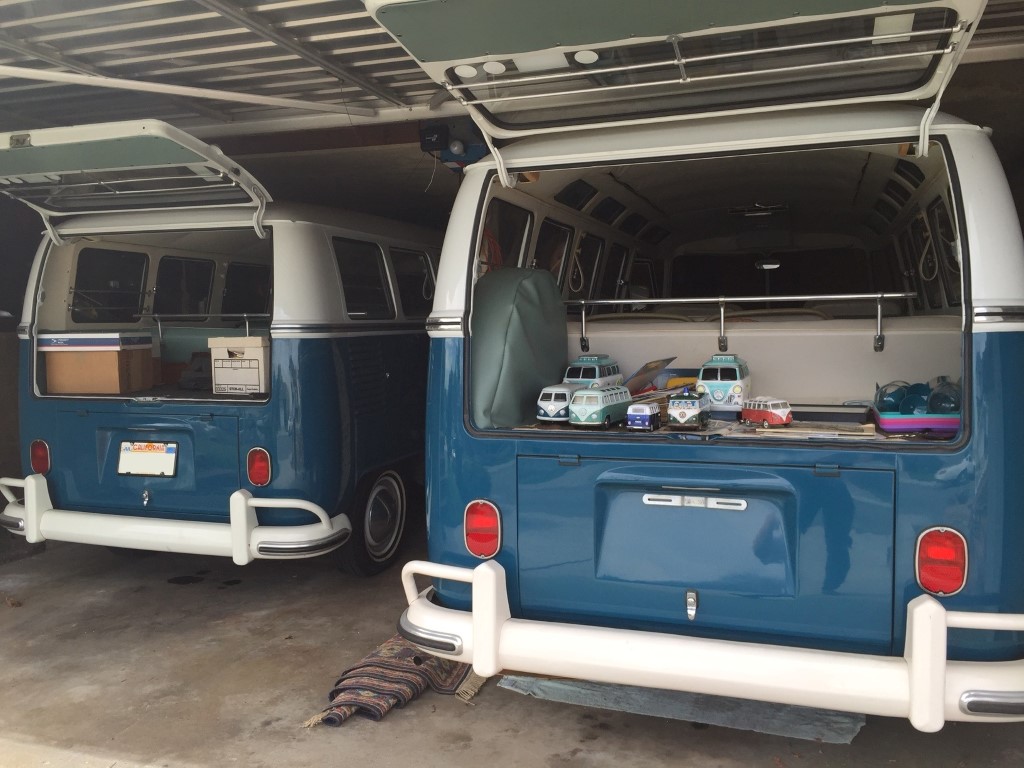 Their ownership has been typical of the highly enthusiastic Southern California VW scene, with regular outings to club events, often as a pair with the other bus piloted by her daughter or twin sister. They were even featured in a Hot VWs article describing the interesting history of the busses. When they were recovered, they needed some sorting, and were accordingly each repainted in their original color combination by Five Points Body and Paint in Huntington Beach, California. Other service work was performed by Charlie Hamill, Sr. at this time, and in more recent years, the bus has been looked after by his son, owner of The Bus Stop. Unfortuantely, the M-code plates had been removed by the thieves, so the plate is not present on this bus. The busses were registered to matching California "sunset" vanity plates issued in 1986 only. The motor was evidently replaced at some point because the engine number bears the VW exchange stamp and X suffix indicating a factory exchange engine.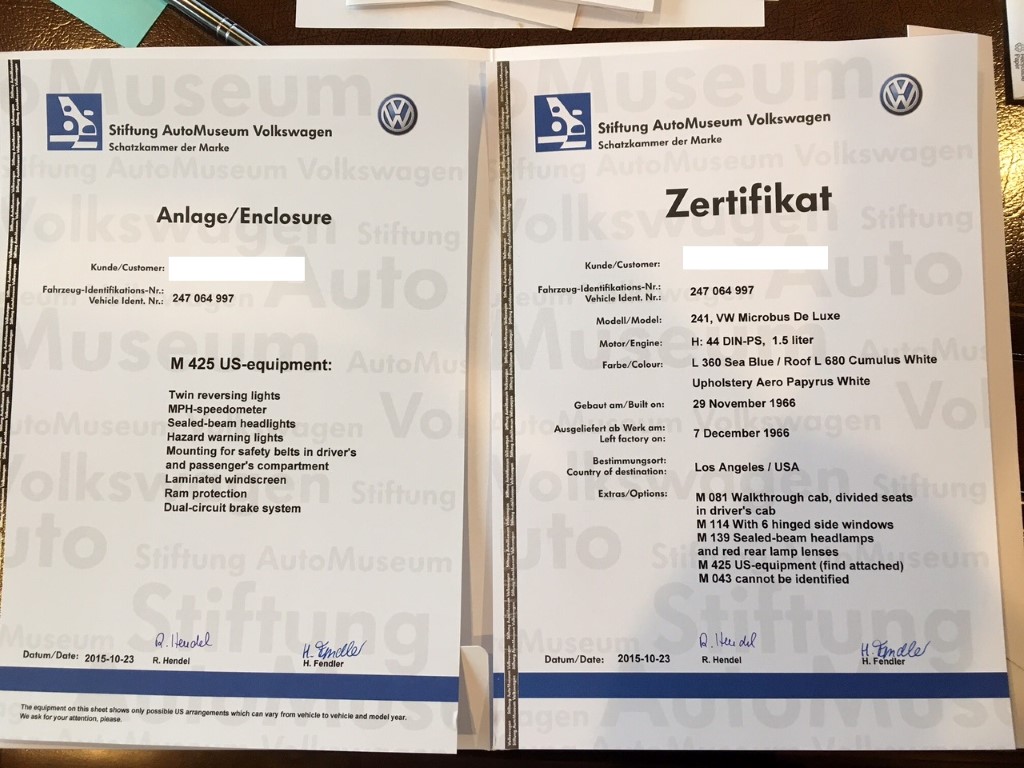 Maintenance
In more recent years, the Deluxe has been used less, but has continued to be maintained at The Bus Stop. In summer of 2015, it had over $3200 of mechanical and cosmetic work, and there is a file of records dating back more than 15 years, showing regular maintenance. In 2000-2001, it received about $3700 in work orchestrated by The Bus Stop, including rebuilt transmission, new transmission mounts, powder coated wheels, miscellaneous trim (such as grab handles, wiper arms, coat hooks, luggage bar end caps) and seals replaced, new wheel cylinders, new brake shoes, and some rechroming including hub caps, door handles, ash trays, and tail light lenses.
The work performed in May-July 2015 included new headlight chrome rings, cargo door hinge covers, new interior grab handles, new dome light lens, new coat hooks, new exterior rear view mirror, new wiper inserts, new radio, new rear square weave carpet, new brake shoes and wheel cylinders at the back, new brake lines, new fan belt, new license plate light gasket, new door hinge plugs, new front steering arm, new screws on interior rear view mirror, chassis lube, new package tray-steering column gasket, new door latch bumpers, new heater hose grommets and fresh air tube clamps, miscellaneous new seals, new shift shaft coupler, new tires, and new battery.
As a result, this bus runs and drives superbly. The engine starts easily and is well tuned, with linear power delivery and good consistent carburetion. The clutch grabs positively at an appropriate place in the travel. The gear linkage works as it should and the synchromesh is effective on all gears. The steering is free of slop and the brakes are effective with good bite and confidence-inspiring and symmetrical operation. The smile factor involved with using this bus is also exceptional, and the public response and enthusiasm that this bus generates far exceeds just about anything this side of a Lamborghini Countach.
Condition
Cosmetically, the bus is in remarkable condition, and it is particularly impressive given when it was painted. The general cosmetic impression of the exterior is consistent with a restoration performed within the last 5 years. The body is extremely straight and solid with great panel fit, gaps, and operation. The paint was done to high standards and is holding up beautifully, with good gloss and very few marks from road use. There are a few chips on door edges and the like, but the overall cosmetic impression is strong. The chrome and aluminum deluxe trim are also very nice, with light swirls and pitting in some places, but certainly nothing worth redoing. The wheels are in excellent shape and wear new Continental tires. The exterior of the roof is in good shape and it operates well. The glass is very good to excellent throughout, with a few light marks on the windscreens. The glass bears Delog (front windscreens) or Sekurit logos. The lights and lenses are excellent throughout.
The interior presents as substantially unrestored and is in very nice original condition. There are a few small blemishes to the seat upholstery, and a new black rubber mat has been fitted at the front, but the remaining rubber floor coverings appear original. The side panels and door trims are in excellent original condition and the headliner also appears to be original and is in good physical condition but does show some discoloration. The interior paint appears to be substantially original with some pleasant patina. The Deluxe luggage bars on the rear windows and rear seat are still in place and the new square weave rear carpet is excellent. The steering wheel and dashboard are excellent, and the paint could very well be original on the dashboard as it shows some wear from use. The speedometer is excellent with working warning lights and turn indicator telltales. The clock appears unrestored and the standard for 1967 washer system is also in place. The general feel of the interior is of a selectively freshened but overwhelmingly honest and fundamentally unrestored vehicle.
The engine compartment is quite tidy, certainly well above standard driver condition. The inside of the engine compartment was repainted along with the rest of the bus and has a crisp presentation aside from minor dust from road use, which applies across the board to the engine. The engine does not have a hot-rodded appearance with a single carburetor and complete intake trunking and air filter housing, complete with decal and flapper vent. Overall, it has a pleasant, restored character and would respond well to a thorough detail.
The undercarriage is excellent. Aside from some issues in the standard location beneath the battery, which have been arrested and covered by a plate from the topside, the undercarriage is a wonderfully solid and crisp testament to the term "California car." The jacking points, spot welds and the pans themselves are all in superb order and have been undercoated to protect and preserve them. Viewed from above, the floors beneath the rubber mats appear to be original and unrestored and are extremely solid.
Conclusion
This is an exceptional opportunity to acquire an extremely honest 1967 walk-through 21-window Deluxe. Coming out of three decades of passionate and enthusiastic care and conservation, this example is the antithesis of a fresh rotisserie restored bus that went into its restoration as a Swiss-cheesed neglected hulk pulled out of 20 years of storage in a pond. Instead, it was saved from lord knows what indignities by a family for whom the microbus was more than transportation. This example never needed to be fully disassembled for a complete restoration, but has instead been renewed as required to bring it to its current condition, which is crisp and very sharp on the outside, and pleasingly unrestored inside. It has been capably maintained by one of the best in the business, including recent service and freshening, and is a superb running and driving example that reflects the pride of ownership it has enjoyed for the last 30 years.