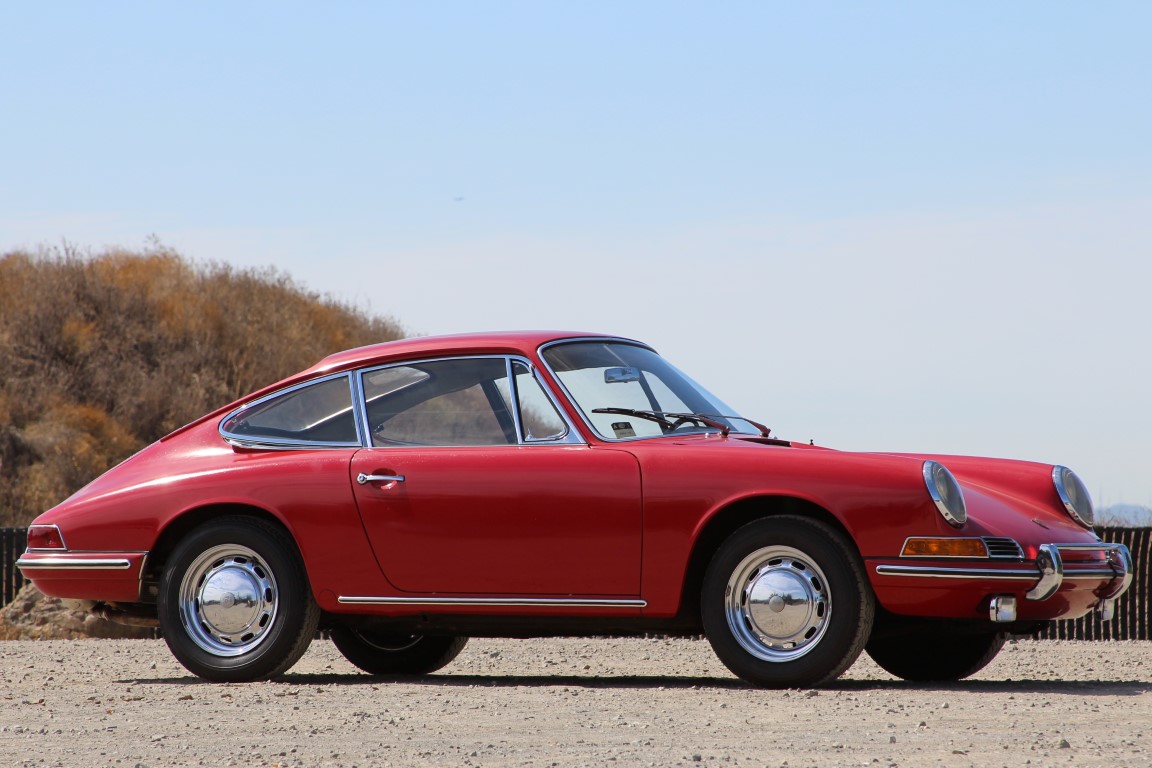 Exterior:

Polo Red

Interior:

Black

Engine:

2.0 liter flat-6, no. 903173

Transmission:

5-speed manual

s/n:

303093

Mileage:

95,577

Price:

$259,500

1965 Porsche 911 Coupe
This is a fantastically original 1965 911. An original paint, original interior, matching numbers car, it is a structurally fantastic, great-driving car. It is exceptionally difficult to find such an intact, undisturbed, and original car like this.
Located in San Francisco, California.
This particular car is a fantastically original and structurally outstanding example that still wears its original paint. The body is free of rust, the interior is original, and both the engine and transmission are original to the car. It is a true "reference grade" specimen that has never been restored. Its chassis number indicates a production date in the summer of 1965 and the car was factory equipped with Webasto gas heater (still in place in the smuggler's box), Blaupunkt radio with speaker and antenna (still installed), and Phoenix tires (most certainly NOT still installed). The Certificate of Authenticity confirms the car is matching (both engine and transmission) and the original color combination of Polo Red with Black Leatherette interior.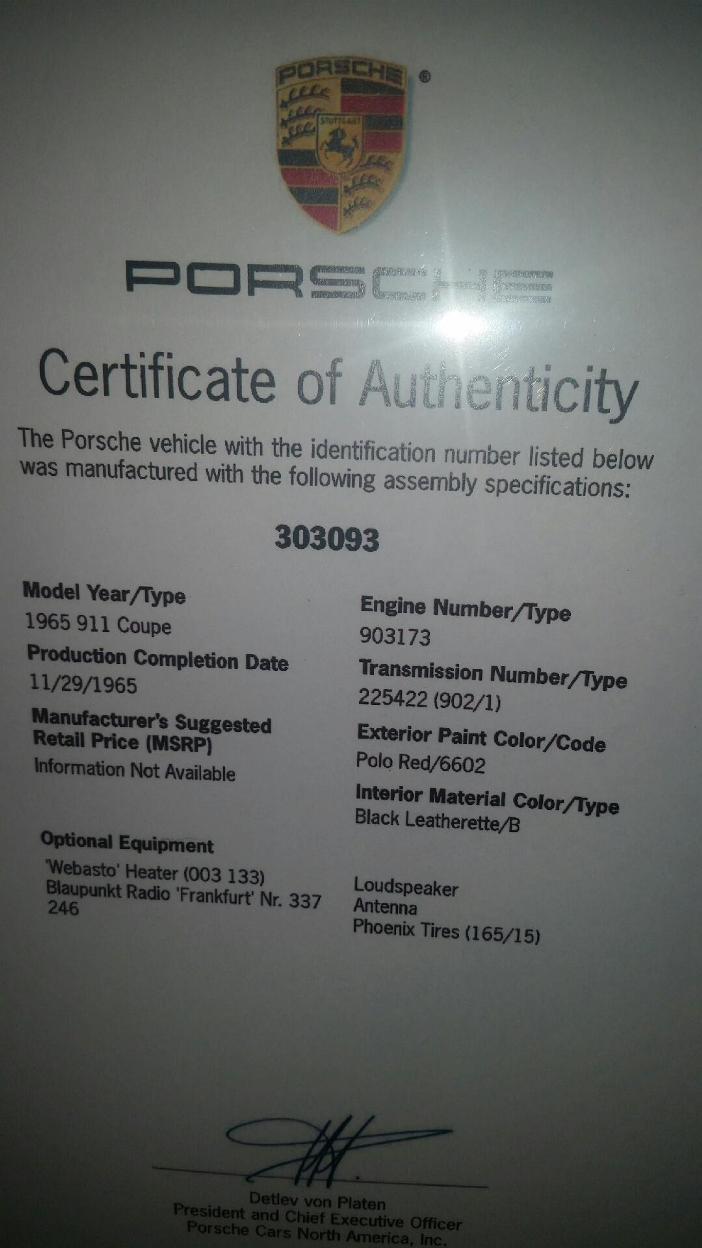 The car's first owner was Roy Hagedorn of Teaneck, New Jersey, just across the Hudson from Manhattan. The car then belonged to Carl J. Demore Jr. of Ellington, Connecticut, who kept the car until June of 1983. Despite the car's long term northeast history, it is clear it was never used in inclement weather because it is structurally superb. The car's indicated mileage of 90,424 in January 1994 is likely from new, and today, the car has covered fewer than 6000 miles since. The engine was rebuilt by KAM Motorsports in Waterbury, Connecticut in April of 1999. In August-September 2015, the car was serviced, including resealed and tuned carburetors, new shift bushings, new fuel level sender, and new battery.
The car's presentation is extremely honest and original. The paint shows some fading, chips from use, and crazing, but is in remarkable condition considering it is more than 50 years old. The body is extraordinarily straight and the gaps and panel fit are superb throughout. The chrome and other brightwork are very nice as well. The glass is very good and appears to be entirely original, with Sigla and Sekurit logos present on all panes. The car is equipped with Carello headlamps behind correct US specification glass covers and a pair of Cibié fog lamps was added at some point. The wheels and hubcaps are in very nice shape and wear Michelin XVS tires.
The original interior is equally remarkable. The upholstery and dashboard are excellent, as are the carpets. The correct rubber floor mats are in place and are in good shape. The wood dashboard is also extremely nice, and the car retains its correct wood steering wheel, which shows minor aging. The Blaupunkt radio is still in place and the headliner is in very nice original condition. The gauges and switches appear unrestored and are in very nice condition.
The engine retains its correct Solex carburetors and original air intake system. A set of SSI stainless steel heat exchangers was fitted, along with electronic ignition, but the engine is otherwise a picture of originality with a wonderfully honest unrestored appearance. The trunk is also in lovely original condition, with extremely crisp structural elements including battery box and trunk floor. The original square weave carpet is well-preserved and the jack is still in place as well, as is the spare.
The car is an absolute joy to drive. These early cars have a reputation for being tricky at the limit, but when used in the manner in which most classic cars are driven, it is the essence of the sports car experience. The steering is light, precise and communicative and has a lovely 1960s feel thanks to the narrow tires and large wood-rimmed steering wheel. The engine is eager and loves to rev in a way only the 2.0 and 2.2 liter 911s do. Despite the reputation of these carburetors, they are actually quite fuss-free in operation in this particular car, with good linear power delivery and excellent responsiveness. The car starts easily and is fuss-free in operation aside from liking a bit of throttle at idle. The shift linkage is precise and the synchromesh is excellent with a slick, worn-in feel that is a pleasure to use. The brakes are effective with good bite, effectiveness, and feel, and the overall driving experience is tremendously satisfying and reminds the driver why these cars are so well-regarded.
This is an outstanding, perhaps even unrepeatable opportunity to acquire a marvelously original 1965 911. Still with its original paint, interior, engine, and gearbox, this car has obviously been cherished its entire life by owners who resisted the temptation to drive the car in inclement weather, flare the fenders, paint trim black, hot rod the motor, fit Webers, or even change the steering wheel. It's a fantastically honest car in truly remarkable structural condition, and is also a tremendously satisfying driver's car. It's the sort of car that will appeal to the seasoned connoisseur who appreciates the admittedly overused statement that "it's only original once." Indeed, a recent visit to EASY Porsche elicited thorough inspection and heartfelt declarations that this car is every bit as remarkable in person as it is on paper. This car has never been restored because it simply never needed it. It never spent 20 years in a wet field turning into Swiss cheese, it was simply preserved, maintained, and enjoyed.