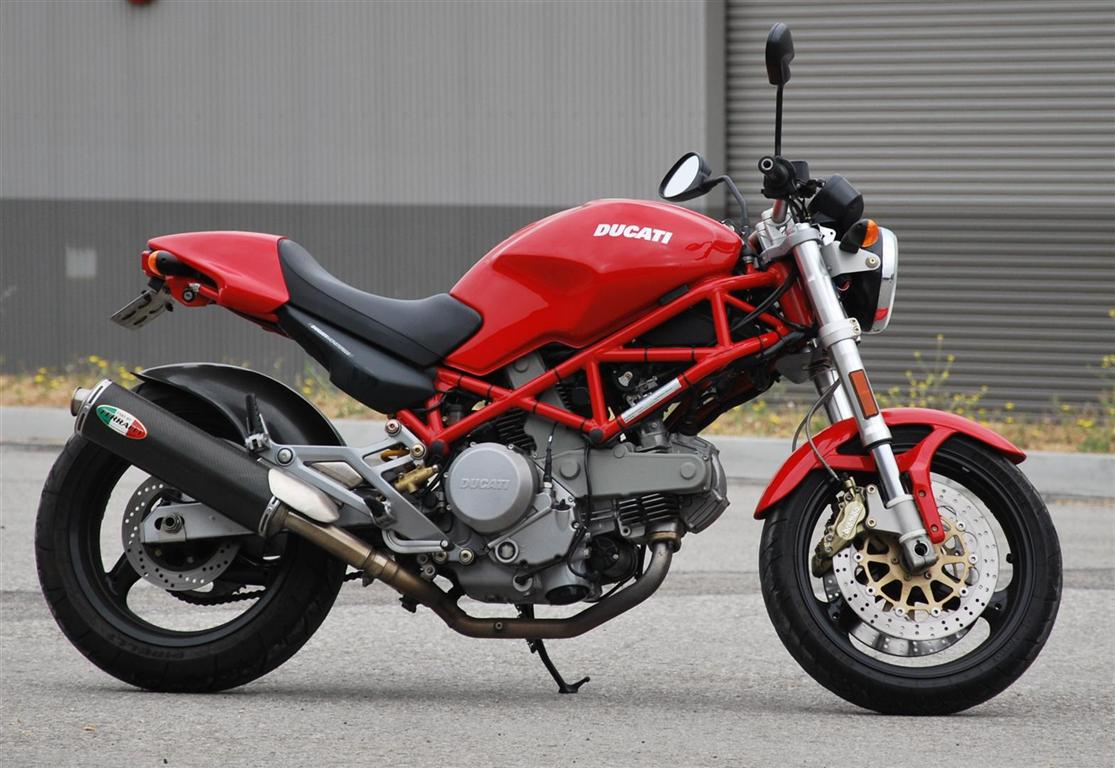 Color:

Anniversary Red with Red Frame

Engine:

620cc V-2

Trans:

6-speed

Mileage:

5,300 miles
s/n:

ZDM1RA2K15B063378
Price:

SOLD TO CA
2005 Ducati Monster 620
This is a well-maintained and properly cared for Monster that is in excellent condition. It has always been kept indoors and has 5300 miles. It comes with books, keys, tools, and service records.
This bike is currently in Marina del Rey, CA.
history
This bike was sold new at Ducati of Seattle. I bought this bike from a Ducati dealer in Texas when it had 1689 miles on it, and I think I am the second or third owner. I had the bike shipped back to Palo Alto, CA, and put most of the miles on commuting between San Francisco and Palo Alto, and San Francisco and Concord. I recently moved to Los Angeles and had the bike shipped down. It's for sale because I bought another Ducati recently and have space for only so many toys.
modifications
The bike is stock other than the following:

Rear fender eliminated
Fast by Ferracci carbon fiber exhaust
Carbon fiber rear hugger fender and chain guard
Removed the front fairing (included with the bike)
The dealer that sold it to me told me it had been lowered in the back. Certainly the seat height feels pretty low, especially compared to other bikes I've ridden.
service
I have always had the bike serviced at the Ducati dealer (Monroe Motors in San Francisco). It has had its 6000 mile service performed already, which included the timing belts and hydraulic fluid flush, in February of 2011. It has about 400 miles on a new rear tire and oil change, which was done in June of 2011. Service records from my ownership period are included.
condition
The bike is in excellent condition overall. It has always been stored indoors while I've owned it, and judging by its condition when I purchased it, I think it always was kept indoors by its previous owners as well. There are a few chips and scratches in the paint (mostly on the cover for the rear seat), but the bike presents strongly overall. The biggest cosmetic blemish is a dent in the left side of the tank, which was there when I bought the bike. A few other small items of wear, but overall, the bike is very nice. Every time I take it to a dealer, I get compliments on how clean it is. It's a great riding bike, very nimble and revvy, and if you're careful with your right wrist, it gets good gas mileage (my personal best on a tank was 69mpg). The Ferracci exhaust makes it sound much better than stock, and it has the famous Ducati V-twin rumble.
The bike is very complete with service records, owner's manual, dealer guide, owner's club booklet, tools, and all keys (one red and two black, still with plastic sleeves on one black and the red). Clean title in my name, and CA registration paid til next March. It also comes with the front fairing that I removed.
Test rides at my discretion.
Photos